No Swoon in June: Domain Business Comes Out Swinging
In last month's newsletter, written just ahead of the Memorial Day weekend, I wrote about what was shaping up to be the most memorable summer in the short history of this industry. June has certainly lived up to expectations with a series of events that have pushed the domain business to heights that few could have imagined at this time two years ago. I just came back from a week in New York where I attended the SedoPro Partners Forum at the stunningly beautiful Mohonk Mountain Resort in the Hudson Valley near New Paltz, NY June 17-19, followed by the T.R.A.F.F.I.C. Conference in New York City June 19-22. Expectations were high for both events, but the organizers of the two conferences still managed to exceed expectations in every way.

View of the Manhattan skyline snapped from
the top of the Empire State Building June 23

I am currently writing in-depth reviews of both events that will be published by the end of the day Monday (July 2) so I won't go into detail in this newsletter other than to tell you that these events personified an industry that is rapidly coming of age and taking its place on the world media stage. The Sedo conference exuded class. It was the kind of retreat you would expect to see staged by a century-old multinational conglomerate rather than a feisty upstart that quickly made a name for itself in the rough and tumble Wild West environment of the domain world.

Sedo turned their back on hard sell tactics and made the event a love letter to their customers, allowing them to fully enjoy the spectacular surroundings with the lowest of low key business promotion during the three idyllic days at Mohonk (mohonk is a native American word that means "lake in the sky"). It was a brilliant call by the company executives who arranged the affair because everyone in attendance left with a very positive impression of their hosts and the lengths they went to to produce an unforgettable experience for their customers.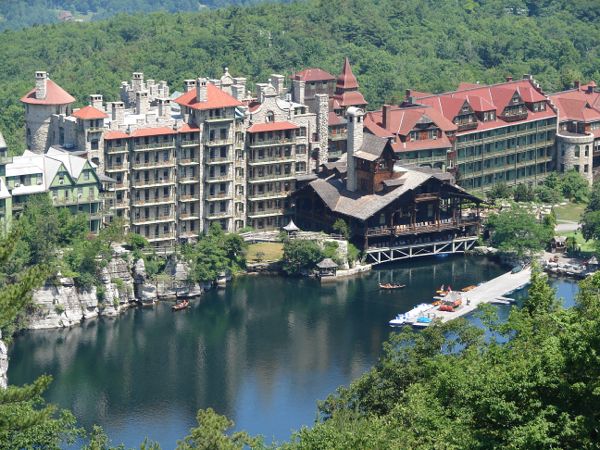 This view of the Mohonk Mountain Resort (site of the SedoPro Partners Forum)
was snapped from the top of a mountain opposite from the resort where
we wound up after an exhilarating 3-mile hike Monday, June 18.
When the Sedo conference ended Tuesday afternoon, attendees boarded a string of party buses for the two-hour ride back to Manhattan and the start of the T.R.A.F.F.I.C. conference that evening. That short ride transitioned everyone from one of the most beautiful rural settings in America to the hustle and bustle of the world's busiest city. The moment I walked into the cocktail party at the Grand Hyatt I knew this conference was going to be something special. The atmosphere was crackling with electricity, there were more new faces than I had ever seen at a T.R.A.F.F.I.C. show and many of them belonged to serious investors who came to learn what this domain buzz going around was all about. They came away very impressed by what they saw and over the next few months many people with deep pockets will become important investors in this business thanks to Rick Schwartz and Howard Neu bringing their domain road show to the Big Apple.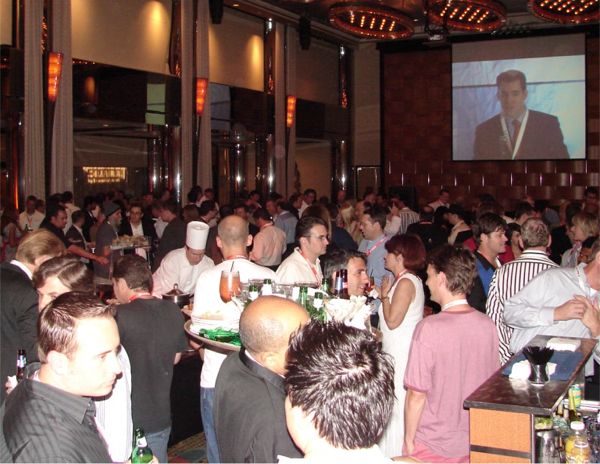 T.R.A.F.F.I.C. New York cocktail party June 19 at the Grand Hyatt in Manhattan
The perfect capper was Moniker.com's live and silent auctions that crowned the event with a record-smashing haul of more than $12 million in domain sales. The news quickly hit the New York newspapers and was picked up by wire services around the world. Everyone seems to be talking about the conference (and the domain business) now. Just this afternoon the Associated Cities newsletter featured a rave review written by David Castello of Castello Cities Internet Network, Inc. who was a speaker at T.R.A.F.F.I.C. for the first time (along with his brother Michael, they were part of one of the best seminar panels of the week).
| | |
| --- | --- |
| The impact of taking T.R.A.F.F.I.C. to New York will reverberate for months to come. Even those who were not able to attend will benefit as this event, like the conferences before it, will increase the value of every quality portfolio in the industry. Many companies took advantage of T.R.A.F.F.I.C. week to announce new innovations and services. Dan Warner of Fabulous.com detailed the company's groundbreaking new Domain Distribution Network (we are planning a separate article on that key development in the aftermarket, but if you want to dig into the program yourself, you can access Dan's Powerpoint presentation here.) NameMedia is also shaking up the aftermarket with their Domain Listing Service and we will be telling you more about that soon as well. | Dan Warner preaches the DDN gospel |
After T.R.A.F.F.I.C., Marchex announced they had rolled out more than 100,000 new developed websites in one fell swoop. Domain owners will be rooting for them to succeed because finding a way to develop large portfolios en masse is viewed as the holy grail for unlocking and multiplying revenue streams many times beyond what is possible with today's PPC pages. Every week someone is announcing another major step forward.
People are certainly noticing what is going on as the aftermarket contniues to barrel down the tracks like a runaway train. In our latest domain sales report published Tuesday night we listed hundreds of significant sales in all major extensions over a two-week period that fell in the middle of what used to be called the "slow" time of the year. Slow times are few and far between in this industry today. I have said it many times before, but I believe it is truer than ever - there simply is no more exciting place to be in business than where domain investor/developers are right now.
Industry Media to Get Their Props at Domain Roundtable
With the latest T.R.A.F.F.I.C. conference now history, I took a peak ahead at the next major event on the industry show schedule - the Domain Roundtable conference coming up August 13-15 in Seattle. In checking the agenda I was

delighted to see that one of the first seminars will be devoted to Domain News Media. As you might expect, this is a subject that is near and dear to my heart. One of the surest signs that this industry is growing by leaps and bounds is the emergence of a diversified media corps devoted to covering the trade. In addition to DN Journal there are now print magazines and many expert blogs written by people who know the business inside out. One of the best bloggers, Jay Westerdal of DomainTools.com, happens to own the company that stages Domain Roundtable, otherwise this timely topic might have been missed.
With the resources that are available today, if you are having a hard time learning about the business or keeping up with the latest news, you just aren't trying very hard! While it creates a more competitive landscape for our publication I am delighted to see domain media outlets blossoming the way that they are. We need every voice we can muster to get out the truth about this industry and counter the lies and misconceptions that are spread about it by those with an anti-domain owners agenda.
Much of the success that domain owners have enjoyed has come at the expense of traditional media outlets who are seeing their advertisers follow the eyeballs to the Internet. Many of those outlets are not happy about that and try to stave off the inevitable by taking potshots at their competition and that is you. The forces that are reshaping the media world are too powerful to stop, but those being disenfranchised are going to try to smear and discredit web-based ad channels in every way they can. It is up to all of us who cover this industry to make sure the other side of the story gets equal time.
Internet Commerce Association Update
The Internet Commerce Association's new Executive Director Michael Collins and ICA Legal Counsel Phil Corwin were both on hand at the Sedo and T.R.A.F.F.I.C. conferences last week. Corwin spoke at both events and did an excellent job in outlining the threats facing

the industry and the reasons domain owners should support the non-profit trade association formed to protect the rights and assets of domain investors. The ICA is still less than a year old and has suffered some growing pains along the way, but I think it is on the right track now and, with your support, will develop into the kind of association the industry so desperately needs to represent it in Washington, D.C., in front of policymakers at ICANN and to mainstream media outlets that are paying much closer attention to this business.

ICA Legal Counsel Phil Corwin speaks to
domain owners at New York's Mohonk Resort
Earlier this year, the six founding members of the ICA (in alphabetical order - iREIT, Name Administration, Oversee.net, Sedo, Straat Investments and the World Association of Domain Developers) invited me to join the ICA's Board of Directors as an independent director. That has given me an opportunity to get an up close view of how the organization is developing and changing to meet the needs of its membership. I believe Phil Corwin is doing a great job for the industry in Washington and I think Michael Collins will be an invaluable asset as he is dedicated to listening to your input and broadening the ICA's base by expanding the board and encouraging participation from every corner of the industry. The organization needs your brain power and support and as time goes on I think the ICA will demonstrate that it is an association that can benefit you, your business and the industry at large.

ICA Executive Director Michael Collins
last week at Mohonk