In our July newsletter I wrote "the domain aftermarket may have turned a corner in the 2nd quarter of 2013," noting a 7% increase in total sales $ volume reported to us from the same quarter last year, as well as improved median sales prices. Now that 3rd quarter sales data is in I can say we have turned the corner and that when we saw that 7% increase in the second quarter we hadn't seen anything yet.
With the high end of the market finally making a comeback, total sales across all extensions not only improved in 3Q-2013 - they exploded. In 2Q-2013 $22.4 million in sales were reported to us. In 3Q-2013 that number jumped to $30.8 million - a 37.5% increase.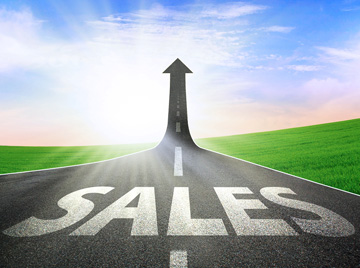 Growing sales image from Bigstock
When we looked at .com sales alone the numbers were even more impressive. In the previous quarter (2Q-2013) $16.8 million in .com sales were reported. In 3Q-2013 that numbered rocketed to $25.8 million, a 53.5% rise from one quarter to the next. Better yet, the 3Q-2013 results were 60% higher than the $16.1 million in .com sales reported in the same quarter a year ago (3Q-2012).
As I noted above, a key driver was the return of the high end of the market after a long recession fueled absence. In 3Q-2013 we saw IG.com sell for $4.7 million and 114.com go for $2.1 million. Three other sales came in at a half million dollars or more. What's more, the 4th quarter we are in now got off to an excellent start with Rick Schwartz selling eBet.com for $1.35 million and six other sales hitting six figures in the first half of October alone (two of those nearly reached the half million mark). You can see the latest Year to Date Top 100 sales here, and more detailed weekly reports from throughout the year can be found in our Domain Sales Archive.
While .com was shooting the lights out the other categories did not fare as well. The ccTLDs were down slightly in 3Q-2013 from the same quarter a year ago, dipping from $3 million in reported 3Q-2012 sales to $2.9 million (a 3.4% decline). The drop from the previous quarter was higher, with 3Q-2012 down 12% from the $3.3 million recorded in 2Q-2013.

British Internet Flag image from Bigstock

Why is this happening? There are two possible culprits. One is that there has been something of a cloud over one of the strongest country codes - Great Britain's co.uk - because Nominet (the governing body of the extension) has expressed interest in allowing registrations in the top level .uk extension for the first time. Many feel that would undermine the value of existing .co.uk domains. Then there is the impending arrival of hundreds of new gTLDs. Some potential ccTLD buyers could be waiting to see if they can get their preferred term for less in a new TLD.
As for the non .com gTLDs (.net, .org, .info, .biz and others), the results were a mixed bag. That group fell 4.5% from the previous quarter, down from $2.2 million to $2.1 miillion, but they jumped 10% form the same quarter a year ago when reported sales in this category came in at $1.9 million.
One other note on non .com gTLDs - this is the category that the new gTLDS, that have just started arriving, fall into. Currently, reported .com sales are 15 times higher than all extensions in this category put together. When you consider that .net, .org and the rest have been around for one to two decades without denting .com, it doesn't appear likely that the coming new gTLDs (even though there will be a lot more of them) will threaten .com's dominance for a long time to come (if ever), More of something doesn't necessarily make it more valuable - demand has to be there too. Whether or not there will be enough demand to keep hundreds of new gTLDs afloat will almost certainly be the industry's biggest story over the next few years.
We have some more 3Q-2013 numbers to get into but first, for new readers, let me lay out the parameters of the data we collect and report. To keep the size of our weekly domain sales report manageable, we do not track sales below four figures (to be specific we track .com sales of $2,000 and up and all other extensions from $1,000 or more). As a result, our median figures are higher than they would be if we tracked the entire universe of domain sales. Conversely, total dollar volume reported to us is less than it would be if we tracked sales at the lowest end of the market.
Also keep in mind that no one has data on the multitude of sales that are never disclosed or are completed under non disclosure agreements (most of the largest sales are subject to NDAs). Reported sales do give us some valuable insight into the market but they still represent a small fraction of all of the sales taking place. Escrow.com's Andee Hill illustrated that point when she spoke at October's T.R.A.F.F.I.C. conference in Florida and noted that they close more sales in a week than some aftermarket sales venues report in a year. We only see the tip of an iceberg that is much bigger than most people realize.

Now, getting back to the 3Q-2013 numbers, let's look at the median sales prices (the number at which half of all sales are higher and half

Tip of the iceberg image from Bigstock

are lower), a more stable gauge of sales trends than average prices because averages can be skewed dramatically by just a handful of sales. For .coms, the median sales price of $3,088 in 3Q-2013 was virtually unchanged from both the previous quarter and the same quarter a year ago (less than 1% difference either way). For the ccTLDs the 3Q-2013 median price of $1,934 was down 3% from the previous quarter but up 6% from the same quarter a year ago. For the non .com gTLDs the median price was down in both comparisons. At $1,800 in 3Q-2013, it was off 10% from the previous quarter and down 5% from the same quarter a year ago. Lower medians for this group could indicate that the arrival of hundreds of new extensions in this category (and thus countless cheaper alternatives) - are having an effect on prices.
One other metric worth looking at is the number of transactions reported. In 3Q-2013 4,227 transactions were reported to us across all extensions. That is 6% fewer transactions than the previous quarter (and about the same from 3Q-2012). When you consider the much higher total dollar volume we saw in 3Q-2013 was done on fewer transactions, that means average prices increased strongly. We saw transactions go up considerably during the recession, most likely because many owners were forced to let domains go, sometimes at fire sale prices. That no longer seems to be the case.
The results were the same for .coms only, with 6% fewer transactions that the previous quarter and the same quarter a year ago. For the ccTLDs, the number of transactions reported was down 4% from the previous quarter but up 7.5% from the same quarter a year ago. The non .com gTLDs, like the .coms, saw fewer transactions in both quarterly comparisons, falling 10% from the previous quarter and 3% from 3Q-2012.
With 3Q-2012 now in the books we are entering the home stretch for 2013. If we can close this year with a fourth quarter that shows as much improvement at this one did, it could be a Merry Christmas and Happy New Year for domain investors indeed.