Two More Six-Figure Sales Help Keep the Early 2019 Domain Sales Season on Track
I was away covering the 2019 NamesCon Global Conference last week in Las Vegas so I will be bringing you up to date with a double dose of sales data this time out. Our latest all extension Top 20 Sales Chart is headlined by a pair of six-figure sales that closed since my last report on January 23. Joe Uddeme at NameExperts.com claimed the top spot with C5.com at $135,000 while VPN.com broker Sharjil Saleem filled the #2 hole with a $105,000 sale of Crete.com.
We expect to chart several more transactions at the six-figure level in the next few weeks as sales made in the NamesCon live domain auction begin closing (the top five sales in that auction all drew six-figure bids, led by OL.com at $900,000, Leads.com at $435,000 and DomainNames.com at $370,000).
Sedo claimed the #3 position with the week's biggest ccTLD sale - Play.de at €30,000 ($34,200) - as well as #4 with PaulValentine.com ($27,360) and a share of #5 with Pay21.com at $25,000. They went on to sweep 15 of 20 chart entries overall. Nametra.com shared that #5 slot with a $25,000 sale of their own for SetPay.com.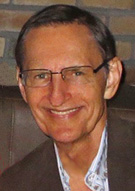 By Ron Jackson
.Coms piled up 14 charted sales with James Booth's BQDN.com and Brian Harbin's GritBrokerage.com joining forces to aid that onslaught with their co-brokerage of #8 YIG.com at $20,000 (a sale they put together while at NamesCon).
The ccTLDs also had a good outing, taking all six of the remaining places on the Big Board including Sedo's $21,660 sale of #7 LUZ.es. Sedo accounted for all of the rest of the country code sales except one - GritBrokerage's $10,000 sale of #17 (tie) Fifth.co. That left no room at the inn for the non .com gTLDs.
Here is how the sales leaders stacked for the week ending Sunday, February 3, 2019:
HealthInsurance Services, Inc
eHealthInsurance Services, Inc
eHealthInsurance Services, Inc
The DN Journal Top 20
Highest Reported Domain Sales - Mon. Jan. 21, 2019 - Sun. Feb. 3, 2019
(Foreign currency to U.S. Dollar Conversions Based on Rates in Effect Feb. 6, 2019)

Domain

Sold For

Where Sold
1.
C5.com
$135,000
NameExperts
2.
Crete.com
$105,000
Sharjil Saleem/VPN.com
3.
Play.de
€30,000 = $34,200
Sedo