Before we get down to business let me answer a question some might have. Our bi-weeky domain sales report has been coming out on Wednesdays for the past 19 years, so why did this one show up on a Monday evening!? I'm happy to say that for the first time since the Covid epidemic began in early 2020, we are going to take a long overdue week-long vacation. Since I won't be here on Wednesday this week - and don't want to be too far behind what is happening in the still booming domain aftermarket when I get back - I moved the report up two days. We'll be back on the normal schedule the following week with the next report coming out Wednesday evening, April 27.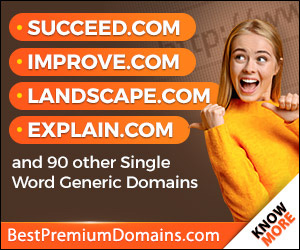 A lot of data comes in the first couple of days of each week, so being a little early will make this report a bit briefer than usual, but there is still no shortage of impressive sales to share with you. It starts with one of the year's 10 biggest sales reported to date, a $475,000 sale of LNW.com to a company whose landing page shows the trademarked name, Light & Wonder but doesn't indicate what line of business they are in (it does say you have to be 18 or over to enter the site though).
Another six-figure sale fills the #2 spot on our latest all extension Top 20 Sales Chart. It comes from a familiar investor (and long time friend), Braden Pollock at LegalBrandMarketing.com, who moved Elmer.com for a cool $125,000. The .coms would go on to claim 11 of the 20 chart entries with the vast majority of those coming from Sedo, including #5 Prodia.com at $27,500. Matt Jackson at DNBX.com also put one on the .com ledger with a $20,000 sale of #11 GoWithMe.com.
The ccTLDs also had another very strong outing, claiming six places on the elite list, led by AbdulBasit's $50,000 sale of #3 Electra.co via Afternic. Sedo completed a powerful one-two punch for the country code domains with their $42,500 sale of Jogos.com.br ("games" in Portuguese).

The non .com gTLDs left a mark on the chart too (actually three of them), scoring with a $24,000 sale of #7 SmartContracts.dev by Logan Flatt at Media Code LLC and a pair of .orgs, one of which landed in the top ten - #8 (tie) NOS.org at $22,379 via Sedo.

One other note, I occasionally comment on the growing number of sales being closed under installment plans. Those are helping both buyers and sellers close deals for top dollar domains. While we don't chart sales until the names have been fully paid for and transferred it is good to see examples of the kind of installment deals that are getting done. Seller Erica Verona at Internext recently entered a nice one through DAN.com, accepting a $210,000 offer for GoPink.com that is being paid for in 36 installments (at DAN, if a buyer defaults you keep all of the payments made as well as the domain, so it is a low risk proposition for sellers who don't need all of the money up front).

By Ron Jackson

Now, here is a look at how all of the sales leaders stacked up for the two weeks ending Sunday, April 10, 2022: