We have some nice high end sales to report this week but almost all of the supporting cast of four-figure sales will remain backstage for at least another week. We'll get back to that but first let's give the headliners the turn in the spotlight they deserve. Sedo's Senior Broker Dave Evanson took center stage by brokering two of the three six-figure sales that set the pace on our latest all extension Top 20 Sales Chart. Dave closed the chart topper, SolarEnergy.com at $175,000, as well as #3 Anxiety.org at $100,000. That Anxiety.org sale has a special added distinction. It is the highest Non .Com gTLD sale reported so far this year, eclipsing the previous leader, W.app at $96,000 in June, also at Sedo (The Non .Com gTLD YTD Top 100 is the third chart on the page linked to above).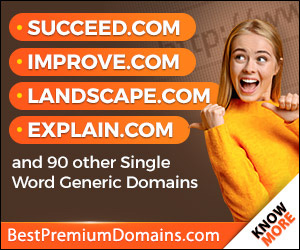 Sandwiched in between the two newest additions to the Dave's Greatest Hits album, is #2 Agents.ai at $125,000 in a private transaction. Like Anxiety.org, that makes Agents.ai the top reported sale in its category so far this year (the ccTLD YTD Top 100 is the second chart on this page). Thanks to the artificial intelligence boom, .ai domains have been red hot this year. We've seen social media posts claiming bigger .ai sales (and some may very well be true) but no documentation has been provided to us for any of those. Before charting a sale, we need to know (preferably from a party to the sale or the venue it was sold though) where and when the sale was made, if it has been paid for in full and transferred and proof of the price paid.
Now, before we get to the charts, let's talk about what is missing, especially from the supporting cast of four-figure sales you usually see. We are in the middle of summer and some of the top venues that provide sales information have been on holiday. Sedo notified everyone in advance that they would not be sending out their usual weekly report last week nor this week. However, they will bring everything up to date when they return to their normal release schedule next week (on August 1). Also, important sister sites, NameJet and SnapNames, who have been releasing their data monthly, have not sent out their June numbers yet. So 200-300 sales that normally would have been out now are still in the wings. We will be posting all of those when they come in. This column (postponed from last week due to the dearth of data) usually comes out every other week but with Sedo's big release coming next week (NameJet/SnapNames quite possibly as well), we will be posting another column next week (Wednesday evening, August 2).
While we are looking ahead, I also want to share some information I received from Rick Schwartz (AKA The Domain King) about a new sales agreement he has made for LUV.com at $1.55 million. Rick announced the deal on his popular Twitter feed a few days ago and at the time it was structured with a $1.4 million payment up front, then staggered bonus payments over time. Today Rick let me know the buyer has accepted an offer to pay $1.55 million up front and eliminate future payments from the deal. The buyer is outside the U.S. and there are still some details to wrap up but as soon as it is complete, we will post it.
I bring that deal up now for two reasons - the primary one being that Rick has a more than 25-year-long track record of getting deals at this level done - and second, as a reminder that reported sales are just the tip of the iceberg. There is always a lot more going on behind the scenes that we don't get to see - especially when very high value domains are involved. Bigger sales than those on the charts are being made in all categories over the course of the year. Still, the ones we do see are very helpful in learning more about domain values and trends (which is the sole purpose this column was created for back in 2003).

Now, about those charts! Sedo fills a lot of spots and I have those numbers because they are from the last week they reported before their current holiday break (they came in on the off week in our bi-weekly publication schedule so this is first time we have published them). Sedo filled out the first five with a pair of 3-letter.com sales - BVO.com at $26,000 and ZOC.com at $25,000. Those helped the .coms pile up 13 chart entries. The ccTLDs claimed four spots and the non .com gTLDs filled three, including a $10,000 sale of Wow.art at Get.art.

By Ron Jackson

Here is how all of the leaders stacked up for the three weeks ending Sunday, July 23, 2023: