Our comprehensive wrap up of last week's Domain Roundtable Conference in Seattle has just been published (along with dozens of pictures from the groundbreaking event). You can read all about it here: Domain Roundtable Dazzles Audience with High Tech Trade Show and Live Auction Twists
Posted August 24, 2007

The Domain Roundtable conference ended last night in Seattle with a groundbreaking live auction that set a new technological standard for this increasingly popular sales format. The entire 7-hour plus auction (see photo below) was shown live on the Internet and more importantly, bidders anywhere in the world were able to place bids live in real time, competing with those who were actually at the auction site at the Seattle Sheraton hotel.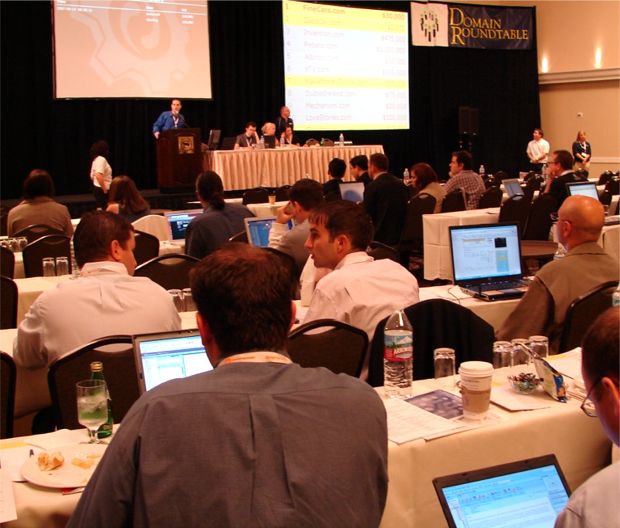 Live Auction scene from the Domain Roundtable conference in Seattle August 15
This was the first live auction staged by Domain Roundtable (and the third annual conference in the Roundtable series) and while the technology stole the show the sales results were also very respectable. The final tally will fall between $3-$4 million (show organizers have not yet verified the exact number). The auction got off on the right foot with the first five names selling, including Rebate.com at $1 million and Invention.com at $500,000. Those were also the
highest bids of the day. We will have more photos and details on the auction and all of the events and seminars surrounding Roundtable week in a comprehensive wrap up article that will be posted next week. As we leave Seattle we go with sincere thanks to Roundtable creator Jay Westerdal and show producer Stephen Douglas for being great hosts and putting in an enormous amount of work to make Roundtable a high value experience for everyone who attended.
Posted August 16, 2007

Auctioneer Ron Hannon (left) and Roundtable founder Jay Westerdal simultaneously fielded bids made from the floor at the Seattle Sheraton and those made live over the Internet by bidders around the world.
A major live domain auction will be staged at the Domain Roundtable conference at the downtown Sheraton Hotel in Seattle today (we will be there). The auction will culminate a 3-day conference that featured a full day of seminars Tuesday and the annual Name Intelligence Awards dinner last night. Enom.com, GoDaddy.com and Sedo.com all walked off with multiple awards. Enom and GoDaddy were among eight registrars that received User's Choice Awards (winners were selected in voting by members of NI's popular DomainTools.com site).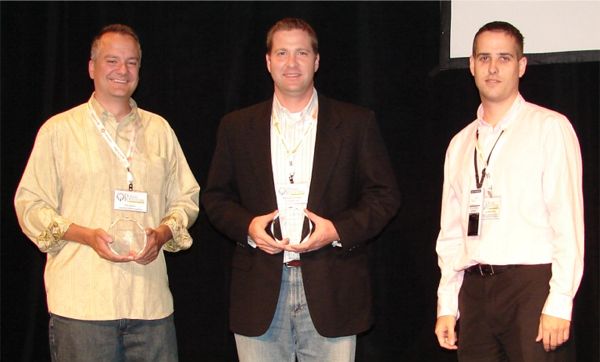 Left to right: Paul Stahura (Enom.com) and Nate Curran (GoDaddy.com)
with Domain Roundtable conference founder Jay Westerdal
at last night's Name Intelligence Awards dinner.
DNJournal.com received the Best Industry Coverage award and we very much appreciate that honor. We will have a complete list of all of the winners (and more photos) in our comprehensive conference wrap up article next week.
Posted August 15, 2007
Last night's keynote speech from Name Administration chief Frank Schilling highlighted the opening day of the Domain Roundtable conference at the Seattle Sheraton Hotel.

Frank Schilling delivering his keynote
speech at the Domain Roundtable
conference last night in Seattle

(Schilling also participated in an interesting and wide ranging panel discussion earlier in the day that included Sahar Sarid, Adam Strong and Mike Zappy Zapolin). Schilling has one of the greatest success stories in this industry. He was an everyday working guy who found his way into domain investing and is now believed to earn in the neighborhood of $20 million a year from his portfolio. He built his empire with TM-free traffic-rich generic domain names and is now viewed by many as the person they most want to be like in this business.

The most endearing thing about Schilling (at least to my mind) is that even if he were penniless today he would still be the kind of person that you would be proud to have your son or daughter emulate. I don't know that I've ever met anyone who has remained as well grounded after great financial success as Schilling has. That came through in his talk last night and in a very rewarding question and

answer session that followed. Among other things Schilling talked about how he would try to build a new empire in today's world of high-priced domains if he had to start over again with just a few thousand dollars to work with (as he did the first time around). Details of what Schilling had to say about that and other topics will be in our wrap-up article on the conference next week. Today's schedule will include another busy round of seminars capped off with the Name Intelligence industry awards dinner tonight. Tomorrow a much anticipated live auction will take up the lion's share of the day's agenda. It is scheduled to run from 11am to 6pm local time.
Posted August 14, 2007
The 2007 Domain Roundtable conference officially gets underway today in Seattle. Early arrivers last night were treated to a cocktail party at the host hotel - the Seattle Sheraton (a scene from that gathering is shown in the photo at right). A highlight of the opening day schedule will be this evening's keynote speech from Name Administration chief Frank Schilling. That will be followed by a big party at local night

club Sugar that will double as a fundraiser for Grassroots.org. We will be at all of the key Roundtable functions this week and will publish a detailed conference wrap up a few days after the show concludes.
Posted August 13, 2007