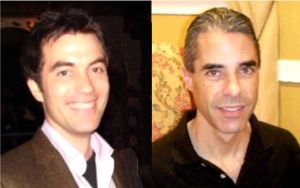 Eric Litman (left) and Michael Mann
WashingtonVC.com
focused on Litman who started working with Mann after each helped found companies (Proxicom for Litman and BuyDomains for Mann) that were sold in multi-million dollar transactions. At WashingtonVC they are funding and helping build a wide variety of new companies, many of which are based on killer domain names like SEO.com and Phone.com.
Litman told the post, "There's the perception that the Internet is done in terms of
innovation (but) we're still at the very beginning in terms of human-computer interaction models in terms of opportunities."
Goldfarb wrote, "In addition to the cash, WashingtonVC provides important corporate back-end services that many start-up companies can't afford or don't know much about, such as marketing strategy, human resources, legal advice, etc. Litman, who spent several years investing in and commuting to East Asia calls the concept "keiretsu," a Japanese word referring to a company that's at the center of a business ecosystem."
(Posted April 7, 2008)