domain attorney Ari Goldberger today telling me that his sister and long-time personal assistant Leora Garret was featured on the local CBS-TV station (Channel 3 in Philadelphia) after losing 140 pounds in just 9 months on the Smart For Life Cookie Diet! Leora's story is also available on the TV station's website. Ari (who was the subject of our June 2006 Cover Story) said he tried the diet too and lost 25 pounds. That certainly caught my attention and I'm sure I'm not the only one whom the sedentary business of domaining has negatively affected weight wise over the past few years. The special cookies at the center of this diet are laced with proteins that help kill hunger pangs according to program advocate Dr. Scott Greenberg. As the TV station's article notes, other doctors have concerns about the cookie diet so it would be wise to do your own due diligence before trying it yourself.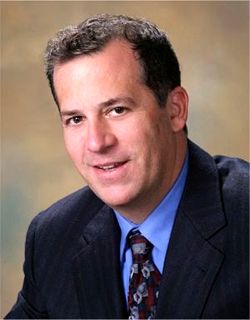 Ari Goldberger
| | |
| --- | --- |
| | Here comes another re-purposed ccTLD that will be marketed to the public as a general purpose extension. This time it is .me which is Montenegro's country code. That nation has signed a deal with an independent company that will operate a new .me registry to market the domains as being perfect for personal use. Their slogan is .Me is about You! Sunrise (trademark) applications will be accepted in May with land rush applications scheduled for June, followed by the start of public registration July 17. Afilias, who provides back end registry services for .org, .info and many ccTLDs, will do the same for .me. |
Oversee.net (the parent of DomainSponsor.com, Moniker.com and SnapNames.com) made a key appointment to their executive team this week adding David Subar as the company's Chief Technology Officer. He will be responsible for building and implementing technology that supports Oversee's core activities in its Domain Services and Marketing Services divisions, while
aligning the Company's technology resources for further expansion. Oversee CEO and co-founder Lawrence Ng (who was featured in our March 2008 Cover Story) said "Technology is

critical to Oversee's success and the appointment of David to CTO fills an essential and strategic leadership role in the company. We're committed to developing the best technology to serve our stakeholders—domain investors, advertisers and consumers. David will help us explore the most appropriate growth avenues to provide competitive products and services in a rapidly evolving industry."
Subar has over 18 years of experience in software development and product management for start-ups and mature companies. Previously, he was CIO at Interthinx, a fraud detection and risk mitigation company serving the financial services industry. He has held numerous technology leadership positions in startups for venture capitalists and was CTO at PeopleLink, an idealab! company. Of course, I am most impressed by the fact he is an Ohio State University

graduate (I also went to OSU - Go Buckeyes!).
(Posted April 11, 2008)