David Castello (who were featured in our December 2006 Cover Story). I just finished listening to the 60-minute program and it was a very engrossing show, even though I was already very familiar with David and Michael's background and their domain business. There were still plenty of interesting anecdotes I had not heard before.
I was also struck by the exceptional sound quality of the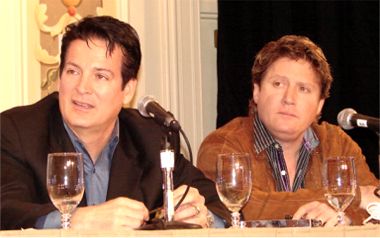 David Castello (L) and Michael Castello
Castello Cities Internet Network, Inc.
program - as good as I have ever heard on a podcast. Though Ed conducted the interview over trans-oceanic phone lines, both he and the Castello brothers sound like they are sitting next to you in your living room. Check it out, I'm sure you'll find the time well spent.
If you like what you hear you will also want to check out the other five podcasts Ed has posted since he started in early March. Those featured Michael Gilmour (WhizzbangsBlog.com), Elliot Silver (ElliotsBog.com), Rick Latona (RickLatona.com), James Martell (AffiliateMarketersBootcamp.com) and the dynamic duo of Dan Kimball and Sean Stafford (DNZoom.com).
(Posted April 14, 2008)