When I opened my local newspaper, The Tampa Tribune, this morning there was news that the paper's parent company, Media General, was going to offer buyouts to staff members at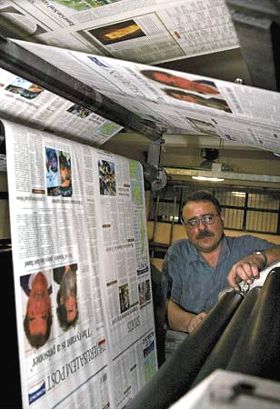 both the Tribune and the local NBC-TV affiliate that Media General owns, WFLA Channel 8. Of course, it is all part of ongoing downsizing of newspapers around the country (and increasingly TV stations too) as their advertisers spend more and more money online instead of in traditional media.
While the newspapers are getting clobbered what does that mean for makers of newspaper printing presses? Are they today's version of buggy whips? That is how reader Rob Sequin (of SearchDomainsForSale.com) characterized them when he sent me a link to another story about a convention of newspaper equipment suppliers (NEXCO) held in Washington, D.C. over the weekend.
Panel moderator Dennis Nierman, president of AlfaQuest Technologies Inc., referring to the steady revenue declines that are plaguing the newspaper industry said, "We, too, are feeling
the pain." Nierman, whose company makes a product that allows printing plates to be made from digital files, said it was "discouraging" to see the exhibition floor relatively empty, as it was for part of the day Saturday, the first day of the show.
Nierman had to feel a little better when George Irish, president of Hearst Corp's newspaper division, noted that his company had $250 million committed to printing press updates, with more on the way, and Dean Singleton, CEO of Denver-based MediaNews Group Inc. said his company spent $500 million on press-related products over the past three years. As Sequin said, "Wow, that is a HUGE investment in buggy whips!" Amen, brother. I'm sure owners of web media properties are thinking they could get a pretty good hosting account or buy a new server or two for that kind of money!
(Posted April 15, 2008)