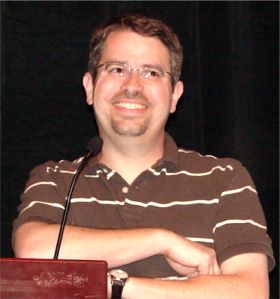 Google's Matt Cutts speaking in the
main event at Domain Roundtable
Saturday (April 19).
A 90-minute afternoon Q and A session with Google's Matt Cutts was an especially rewarding session. Several attendees told me that the value they got from hearing Cutts detail how to get sites ranked as high as possible in Google's search results was, by itself, worth more than they paid to attend the entire show. Cutts is head of Google's Webspam team, which makes him the guy in charge of making sure the most deserving sites get the highest placement in Google search results.
Cutts, who is an exceptionally engaging speaker, said the #1 factor is having unique and frequently updated content on your site. He passed along tons of great tips and links to webmaster tools that will help the many website owners in attendance gain higher visibility at Google.
Another Saturday highlight was a new parking company innovation, SmartName Shops, announced by NameMedia Senior VP Brian Carr in a luncheon presentation. The program, limited to those who hold accounts with NameMedia's high end PPC provider, SmartName.com, allows clients to take parked domains to a new level with integrated affiliate shopping features. You can see an example of what they are doing at ToyCatalog.com. There were also four excellent panel sessions Saturday including the always popular CEO Roundtable that got the day off to a fast start. We will detail all of those in our upcoming conference review article.
There were two major evening events including the annual Name Intelligence Awards dinner (Name Intelligence is the parent company of Domain Roundtable and DomainTools.com). Winners were chosen in ten categories through open balloting on the Roundtable website and among the thousands of DomainTools members (or where applicable, winners were based on industry statistics, such at the registrar net gain award). The envelopes please....
Registrar with the Largest Net Gain - GoDaddy
Best Registrar for Resellers - Enom
Outstanding Drop Catcher - NameJet
Outstanding Secondary Market - Sedo
Best Registrar - Moniker
Best Parking Company (tie): Sedo and Parked.com
Best Aftermarket - Afternic
Best Forum - DNForum.com
Best Blog Community (3-way tie): SevenMile.com (Frank Schilling), Elliot's Blog (Elliot Silver) and Domain Name News (Adam Strong and FrankMichlick).
Best Industry Coverage - DNJournal.com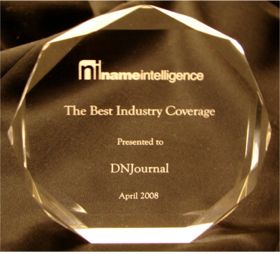 One of the Name Intelligence Awards
presented last night.
After the Awards dinner everyone boarded buses for Club 443 where TrafficZ hosted a fundraising casino night party to benefit Grassroots.org. Attendees donated money for chips and at the end of the night those with the highest winnings were given an array of prizes provided by sponsors. You can see some of the action in the photo below: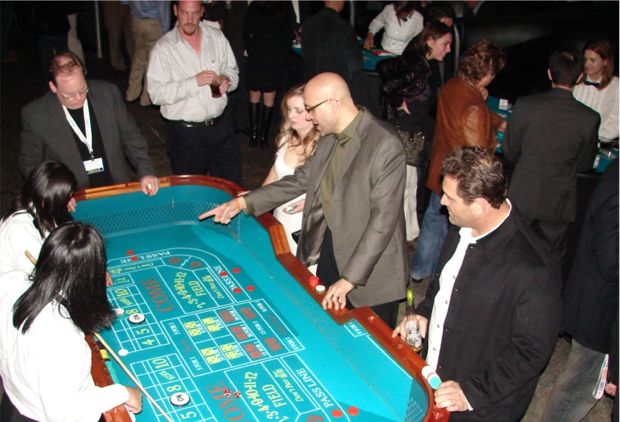 Casino night fundraiser for Grassroots.org
I'm off now for another busy day today. I'll have a Sunday show recap for you tomorrow morning.
(Posted April 20, 2008)