The Domain Roundtable conference ended in San Francisco Monday with a 352-name live domain auction and an after-show party at local nightspot The Cellar. The final auction sales total came in at approximately $400,000, a large fall off from the $3.8 million in sales at the 2007 DRT show. Michael Berkens has a list of the final high bids on his blog.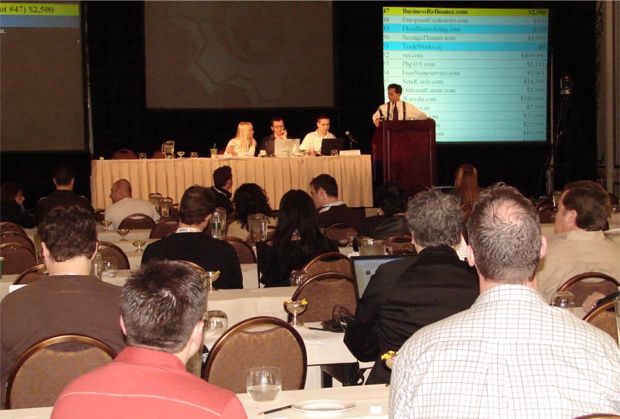 Scene from the Domain Roundtable Live Auction Monday April 21 in San Francisco
The reasons for the sales decline are being debated now. There were more technical glitches in the Internet portion of the bidding and auction access than there were last year (which also slowed down momentum in the auction hall at the Palace Hotel). Some think reserve prices

Auctioneer David O'Shaughessy calling
the Domain Roundtable live auction

were too high on the better names and there were none of the six-figure blockbusters that drove up the take in 2007. Of course, despite a strong first quarter in 2008, there is also the question of whether or not the slowdown in the general economy is finally spilling over to domains. We should get more insight into that question next month when a major Moniker/SnapNames Live auction will be held at the T.R.A.F.F.I.C. conference in Orlando. I think that a key reason for the fall off in the Roundtable auction is the fact that there are so many similar events now competing for buyers. That's a problem all of the live auction venues will have to deal with in 2008.
I am flying back to our home base in Florida later this morning. Soon after I return I will start working on our comprehensive conference review article that will be published within the next week on our home page. The past few days in San Francisco have been very enjoyable. DRT had a great new venue in the Palace Hotel, the seminars were well programmed with top notch speakers and as always it was an invaluable opportunity to pick the brains of some of the smartest people in the business.
(Posted April 22, 2008)