We gave our initial take on that move in this column yesterday. Since then articles have come out in several mainstream media publications that had called us for a comment on what the flood of new TLDs would mean to the domain industry and Internet users in general. Those included the New York Times (article written by Doreen Carvajal and Brad Stone) and the Los Angeles Times (written by Joseph Menn).
As I told Joseph Menn at the L.A. Times, "Downtown real estate in Los Angeles doesn't get any less valuable because someone's building out in Oxnard." Many new TLDs have been released in the past and none of them have had any impact at all on the usage and value of the original .com, .net and .org extensions. Every time a new one comes out, hopeful speculators say "this time it's different" even though it has never turned out that way. Some are saying it again, but I fail to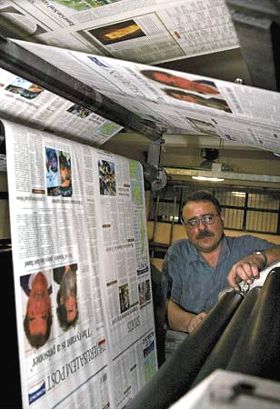 Billions, probably trillions, of dollars have been spent branding the original extensions (especially .com) in the minds of Internet users. To them .com means the Internet. It would take a similar spectacular outlay of marketing dollars, and more importantly, actual usage of these new TLDs by major content providers, for them to break through the clutter. The cost would be so astronomical it would make the six-figure fees ICANN plans to charge operators of the new TLDs look like pocket change.
Studies have shown that few people visit more than 15-20 websites. Most of the established content providers they visit are already found on .com. Do people really think those .com content providers are going to abandon the dominating .com brand and relocate on a newly minted obscure extension that will be just one of hundreds of other newly minted obscure extensions?
Even Devo could make a comeback
with their own vanity TLD (.devo) under
ICANN's new extension plan.

Yes, a handful may make it, but I would be extremely surprised if the vast majority of them don't wind up in the already over-crowded new TLD graveyard. David Castello of Castello Cities Internet Network has dubbed the proposed new extensions vTLDs ("vanity" TLDs), which I think is an appropriate moniker (no offense to Monte Cahn's fine company). Some may be interesting for novelty use, but without unprecedented marketing muscle put behind them, few are likely to amount to much more than that.
Many different opinions abound on the topic (one of the many good discussions can be found at the DomainState forum) and none of us can say for sure what will happen in the future - but now that so many of us are on the record it will be interesting to look back five years from now and see who came closest to getting it right. We'll have more on this topic in our free monthly newsletter that will be emailed to subscribers this weekend.
(Posted June 27, 2008)