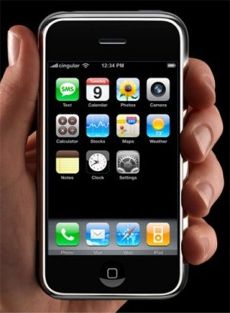 who are saying the iPhone is a .mobi killer were right. My first impression was that this device could indeed spell big trouble for an extension devoted to bare bones sites.
With the Safari browser you can go anywhere on the web, zoom in on any part of a page and move around to read whatever you want. However, after spending about a half hour browsing with it at home today, I'm not so sure. It did get a little tedious zooming in, out and around full scale sites after awhile. By the time I went to MLB.com (major league baseball's site) it was refreshing when it automatically loaded a mobile optimized site that fit the screen perfectly with all of the relevant information I needed and no further need to pan or scroll around the screen.
Of course, a site doesn't need a .mobi domain to do this (MLB.com, for example, doesn't use one) but it had me rethinking my initial reaction that the iPhone is the death knell for .mobi. Even on an advanced device like the iPhone, having sites branded as "made for mobile" (as .mobi is), could be a plus. I'll have a more informed opinion after using it for several days. The navigation around big sites will likely feel less tedious as I get used to the iPhone's touch screen finger control method, but at the moment, I'm thinking that rumors of .mobi's death at the hands of the iPhone may be premature.
| | |
| --- | --- |
| | That's not to say .mobi doesn't have other hurdles to clear, just that the iPhone alone may not be the grim reaper. While its effect on .mobi could end up being neutral, the iPhone certainly reinforces the supremacy of .com by putting only a .com button on its keyboard to help people quickly complete entry of web addresses. If you want to use any other extension, you have to type it out. |
Next item: For those interested in joining other domainers from around the globe for a great time in Australia this fall, the agenda has been posted for the T.R.A.F.F.I.C. Down Under conference coming to the Gold Coast November 18-20. Fabulous.com, who is based in Brisbane, Australia will be hosting the event and having been round the Fab crew for years now, I can assure you they will make sure everyone has a great time and learns a few new things about the business while they're at it.
Before closing out another week I also want to mention a very worthy charity auction project that SmashFactory.com is helping produce. They've teamed with auction site Bidjit.com and Escrow.com to put together a Bids for Kids domain auction that will raise money for St. Jude Children's Hospital.

Anyone can submit names to the auction which will charge a 15% sales commission with 10% of that fee going to St. Jude. Names will be accepted from now until September 15, with the final catalog to be posted online September 22. The three-day auction will then run October 1-3 on Bidjit.com. Check it out, it looks like a win win situation for everyone involved.

(Posted August 22, 2008)