Daniel Dryzek, one of the organizers of the MeetDomainers conference that was held in Cracow, Poland last weekend sent us some photos from the event that drew 84 participants - primarily from Poland - but also from Germany, Great Britain, Luxembourg and the U.S.. Dryzek and co-organizer Agnieszka Jankowska are seen addressing registrants in the snapshot below.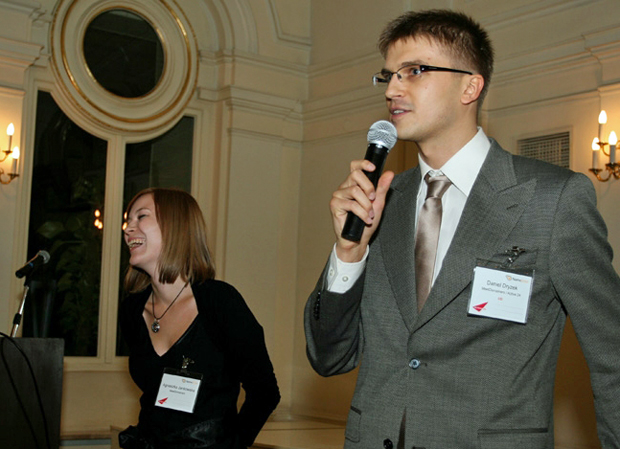 In the photo below, attendees had a chance to get to know each other better at a cocktail party that was held Friday night (October 3).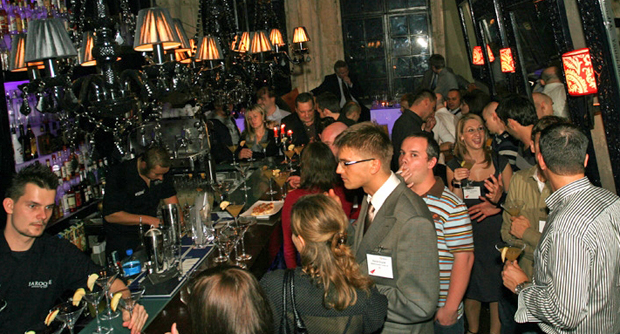 Below: Registrants enjoying one of their two days of networking and seminars in Cracow's palatial Grand Hotel.
Speakers included some of Poland's best known domainers, parking company representatives (Ed Russell from NameDrive and Axel Kaltz from Sedo) and there were presentations from registrars EuroDNS and Active 24 as well as drop catchers Dropped.pl and Zlapane.pl. In the session photo below you see (left to right) Theo Goral, Robert Tofil and Bartlomiej Usydus.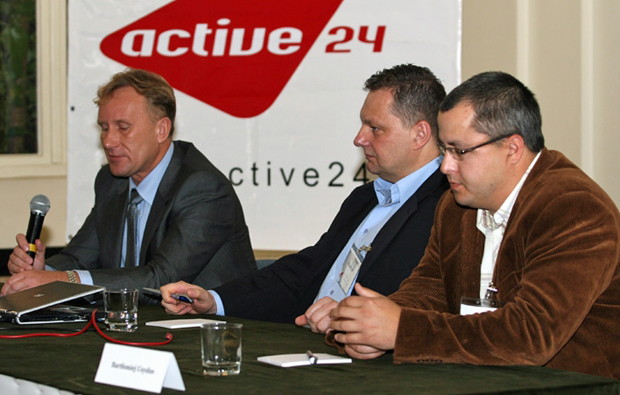 A highlight of the event was a live domain auction powered by Aftermarket.pl. The event produced approximately $90,000 in sales, led by adwokaci.pl (lawyers) for $28,000, aparaty.pl (cameras) at $16,800 and fotografie.pl (photographs) at $10,400. 23 out of 34 .pl (Polish ccTLD) domains were sold. You can see a full list of the domains sold in this first ever Polish domain auction here: http://meetdomainers.pl/en/aukcja. Auctioneer Piotr Lengiewicz is seen in the photo below.
One of the most active buyers in the event was Frederick Schiwek of EuroDNS and DomainInvest.lu who landed several domains including the two highest valued names. Freddy is seen in the photo below.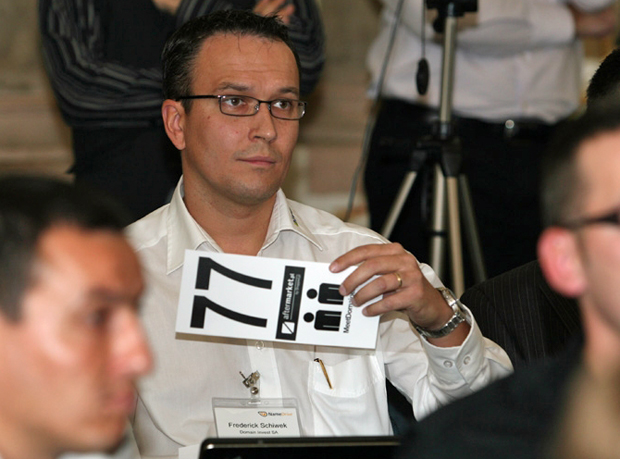 The event ended Saturday night with a party hosted by NameDrive at one of Cracow's most popular clubs, Scandale Royal. It was a very impressive debut event for Poland's rapidly growing domain community.
A couple of other domain auction notes today. Aftermarket.com has been chosen as the premier live auction provider for the upcoming T.R.A.F.F.I.C. Down Under conference on Australia's Gold Coast November 18-20. You can find out more about Aftermarket.com's plans for that auction here.
Meanwhile, MyID.ca's latest online Canadian (.ca) online domain auction is underway and will continue until 1pm (Eastern Standard Time) tomorrow (Oct. 9). More than 150 .ca domains are up for grabs including Single.ca, Lesbian.ca, Payment.ca, Races.ca, Shipment.ca, HomeBusiness.ca and Swimsuits.ca. Lesbian.ca has already met its reserve and the current bid is $20,000.

You can sign up to bid in the auction here: http://auction.myid.ca/biddereligibility.php and the auction itself can be found at http://auction.myid.ca.
(Posted Oct. 8, 2008)