After a lunch break it was time for Moniker's big live domain auction. Though the economy did not keep people from coming to the show, it clearly impacted how much they were willing to spend to add additional domains to their portfolios. Just over 30% (62 of 200) of the domains offered were sold for a total take of just $665,000. Two nights earlier 60% of the domains offered in a no or low reserve auction found buyers, underscoring the fact that low to mid-priced domains now dominate the aftermarket while high ticket names are left on the shelf (the same trend we are seeing in the general retail world).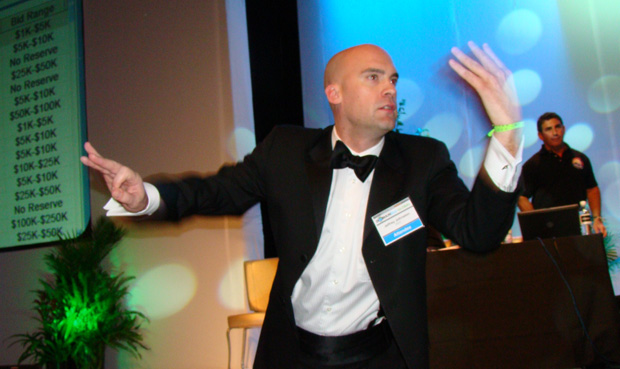 Spotter Jeffrey Johnston tries to coax bids from reluctant buyers while Moniker
CEO Monte Cahn looks on during Thursday's live auction at DOMAINfest Global.
The top sales in the auction were Wife.com ($100,000), RodeoDrive.com ($60,000), FreeWireless.com ($50,000) and ConsumerElectronics.com ($45,000). Michael Berkens has a complete list of the names sold on his blog. Incidentally Michael's wife Judi celebrated a birthday during this week's conference but looked younger and lovelier than ever. Birthday wishes also go out to Directi Co-Founder and Skenzo founder Divyank Turakhia who celebrated his 27th birthday at last night's Playboy Mansion party.
Diana and I will be staying over in Los Angeles for a couple of days to visit friends, starting with a short trip up to Moor Park today to have lunch with Michael Castello and his wife Sheri. We will fly back to Tampa Sunday and are due in just minutes after the Super Bowl kicks off in our hometown that evening.
We will spend most of next week putting together our comprehensive DOMAINfest Global conference review article that will be packed with new photos and show details that you won't want to miss. Oversee.net made a real statement with this conference - no matter what the economy throws at them, they are here to stay and expect to be stronger than ever when the inevitable rebound in the general economy finally occurs.