who attended. We will be publishing comprehensive review articles about each show and expect both of those to be online by this time next week (introductions and links to each story will appear on our home page as soon as the respective articles are completed).
A highlight of the trip was the electrifying Ad.com auction staged by Moniker.com at T.R.A.F.F.I.C. that ended with a $1.4 million sale to Directi Co-Founder Divyank Turakhia. Two different videos showing the spirited bidding for that name have been posted on YouTube. You can check those out here and here (the first is shot from a wide angle perspective whle the second has a lot of close ups of Dviyank during the dramatic bidding).
The extended online auctions associated with both conferences are still underway. The GeoDomain Expo's extended auction ends tomorrow (Tuesday, May 5) at 3pm U.S.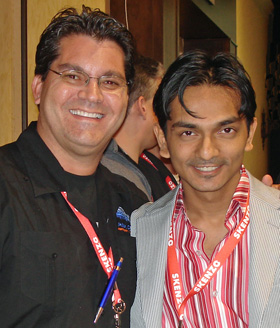 Moniker's John Mauriello (left) with
Divyank Turakhia immediately after
Turakhia won Ad.com with a $1.4 million
bid. (Photo Courtesy of Barbara Neu).
Eastern Time (Noon Pacific). Names still up for grabs in that sale include Reserve.com, Ponce.com, ChicagoTravel.com and Geography.info. RickLatona.com's extended online T.R.A.F.F.I.C. auction will conclude Wednesday at 5pm Eastern time (2pm Pacific). The catalog includes TechnicalSuport.com, FLR.com and IT.co.uk. Moniker's extended T.R.A.F.F.I.C. auction will continue until 3:15pm Eastern time (12:15pm Pacific) on Thursday. Some of the notable names in that auction are Plans.com, Relatives.com and RepairMyCredit.com.