UPDATE - Though we just broke the news of Jay Westerdal's dismissal from Thought Convergence today, we have now learned that Thought Convergence had already filed a lawsuit against Westerdal, his father Per and multiple other parties 12 days ago. The suit, claiming breach of fiduciary duty (among other things) was filed in the California Central District Federal Court in Los Angeles on May 1. Here is a link to the lawsuit (PDF file) Tonight Westerdal told me he is beginning legal action as well. He claims Thought Convergence missed a multi-million dollar payment due him May 2 as part of a contract to purchase Name Intelligence, LLC from him for $16 million that was signed one year ago. According to the suit a $6 million down payment had been made with additional $5 million payments due May 2, 2009 and May 2, 2010.
Thought Convergence released a statement on Westerdal's comments tonight:
"While we believe that employment matters should be dealt with internally rather than in a public discourse, we feel compelled to address the misstatements by Jay Westerdal that were quoted today on various public forums. Thought Convergence confirms that Jay Westerdal is no longer an employee or an officer of Thought Convergence, Inc. or any of its subsidiaries. The Company will not comment on the reasons for Mr. Westerdal's termination, other than to state that Mr. Westerdal's dismissal is not related to a dispute with respect to Thought Convergence's acquisition of Name Intelligence in 2008.
Specifically addressing Mr. Westerdal's commentary on our financial condition, Thought Convergence is a healthy, profitable and vibrant company, and despite these challenging economic times, we continue to grow and innovate in all of our business lines, including TrafficZ, DomainTools, Spry Hosting and Aftermarket.com. Thought Convergence has and will continue to faithfully perform its obligations under the terms of the acquisition agreement. A majority of the payment due has already been made to Name Intelligence, with the remainder being held in an escrow account at the Company's outside counsel, pending resolution of the Company's various claims against Name Intelligence and Mr. Westerdal.
Finally, Thought Convergence has not waivered from our vision of developing the industry's first symbiotic Domain Ecosystem. We consider DomainTools and Spry Hosting to be integral parts of our ongoing strategy, and, as such, we will continue to invest heavily in the further development and innovation of these unique assets."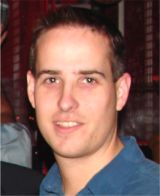 Jay Westerdal

BREAKING NEWS - Jay Westerdal, who sold his company, Name Intelligence, LLC (which included DomainTools.com and the Domain Roundtable conference) to Thought Convergence last year, has parted ways with the buyers (operators of TrafficZ.com and Aftermarket.com). Westerdal had stayed on after the acquisition to run Name Intelligence operations. Westerdal notified business associates today that he had been terminated by Thought Convergence. In his note, Westerdal said Thought Convergence still owed him additional payments as part of the contract for the sale that was made in May of last year. Westerdal remains President of a company called Name Intelligence, Inc., a holding company that is a separate entity from Name Intelligence, LLC. Thought Convergence tells us they will be releasing a statement by the end of their business day on the west coast.
(Posted May 13, 2009)