Google Chairman and CEO Eric Schmidt spoke to the 253rd graduating class at the University of Pennsylvania in Philadelphia today. In addition to being the commencement speaker, Schmidt was given an honorary Doctor of Science degree from Penn (the Princeton graduate was already a doctor, having earned a Ph.d in computer science from Berkeley). I was in the audience because my daughter Brittany was a member of the class of 2009 at Penn, where she graduated magna cum laude with a degree in biochemistry (she is going on to medical school at Florida State).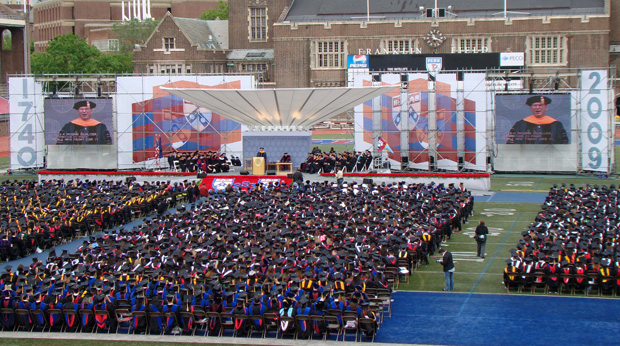 Scene from today's commencement at the University of Pennsylvana. Penn was founded by Benjamin Franklin in 1740 and is one of the "Ancient 8" schools that make up the Ivy League. Google Chairman and CEO Eric Schmidt can be seen speaking on the side Jumbotrons.
Schmidt began his talk by pointing out that the world's first electronic computer, ENIAC, was invented in a basement at Penn in 1946. He noted that every computer related device that we take for granted today stems from that breakthrough at Penn which he said makes the school "the center of my world." He added that 250 of Google's current employees are Penn alumni and said "this is the most desirable place in the world for us to hire interns." That had to be music to the ears of graduates who are facing one of the worst job markets since the Great Depression.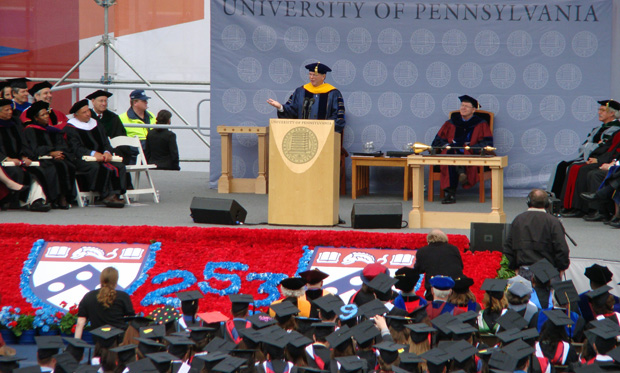 Google Chairman and CEO Eric Schmidt delivering his outdoor commencement address
at the Unversity of Pennsylvania's Franklin Field today in Philadelphia.
Schmidt drew many laughs by comparing today's technology and student attitudes to the way things were when he was in college. The crowd particularly appreciated Schmidt's observation that "We didn't tell people about our most embarassing moments in college. Today you record them and post them on Facebook!" Schmidt encouraged the graduates to continuing cultivating an inquiring mind and to search for new and better ways to do things. He noted, "A mind set in its ways, is a life wasted - don't do it!"
Grammy winner John Legend speaking to
UPenn College of Arts & Sciences
graduates Sunday night in Philadelphia.

While degrees were conferred to students from all of Penn's colleges today (including Penn's world famous Wharton School of Business), the indvidual colleges held their own graduation ceremonies (during which the individual students were recognized) on Sunday. At Brittany's College of Arts & Sciences ceremony last night we were privileged to hear an inspiring speech from six-time Grammy winner John Legend who graduated from Penn in 1999 (he was known as John Stephens before taking up his current stage name).

Legend is also becoming known as much for his humanitarian efforts as for his musicianship. He recently launched The Show Me Campaign through which his fans are encouraged to donate funds toward improving the living situations and prospects of victims of extreme poverty in Mbola, Tanzania. Legend, in early 2008, also began touring with

Professor Jeff Sachs of Columbia University's Earth Institute to promote sustainable development as an achievable goal.
Brittany loved her four years at Penn and Diana and I have really enjoyed our frequent trips to the great city of Philadelphia while she was there (Philly also happens to be home base for some of the domain industry's top pros, including attorneys John Berryhill and Ari Goldberger (Ari is also a Penn alumnus). Our family sends a big "thank you" to the University of Pennsylvania and "The City of Brotherly Love" for what has been a very special time in our lives.