From the Night Shift: More News About the Upcoming T.R.A.F.F.I.C. New York Conference & Free Passes to a Pair of of Appealing Webinars
Sorry for the late post today. A family member from the west coast (Diana's niece) visited us a couple of weeks ago and borrowed one of our cars. Unfortunately, en route to where she was going she got involved in a 16-car pile-up and totaled our SUV. Amazingly, no one was hurt and for that we are all very thankful. After receiving the insurance settlement today we spent the entire day visiting various dealerships before settling on a replacement - an Infiniti FX35 that we finally returned home with tonight (many hours later than I expected to be back). Glad I don't have to go through the tedious car buying process very often!
Many bits of news and information came in while I was out including two new announcements related to the T.R.A.F.F.I.C. New York conference coming up later this month (October 26-29 at the Brooklyn Bridge Marriott). Rick Latona Auctions released the initial catalog for their live domain auction that will run from 4:30-7:00pm (U.S. Eastern time) on Tuesday, October 27. They have put together a very impressive list, including Bananas.com, Bourbon.com, BroadwayShows.com, Dancing.com, GolfClubs.com, Rio.com, SM.com and Tacoma.com to name just a few.
Also, T.R.A.F.F.I.C. organizers sent out an email offering a special "night pass" for the New York show that is available for $995 (half the rate of the standard $1,995 registration fee). The night pass provides entry to the Opening Night Cocktail Party, Rick Latona Live Auction, Moniker.com Live Auction (plus free cocktails at both auctions), the Exhibit Hall after 4PM, and the official Skenzo Show Party at Touch (including Limo transportation).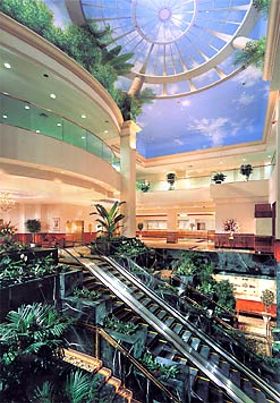 Marriott at the Brooklyn Bridge
Site of T.R.A.F.F.I.C. New York 2009
Elsewhere, DomainSuccess.com will be holding their latest webinar tomorrow (Wednesday, Oct. 14) from 2:30-3:30pm. The special guest will be George Pickering who will be talking about "Getting Hitched On Domain Profitability." The site's summary of the webinar says, "In a world where many domainers pursue domains first – and the business elements often as an afterthought, George Pickering flipped the model. A seasoned exec who possesses a top-tier business pedigree, Pickering approaches domaining with the acumen of running a Fortune 500. That's because he's helped drive numerous Internet businesses to profitability. Now, he's ready to show you how to hone the business side of your domaining business to boost your profitability." You can reserve you free seat at the webinar here.
Speaking of webinars, BuyDomains.com continues their popular free series with an October 22nd webinar on "How to Price Domain Names." BuyDomains says "The webinar will cover the strategies and tactics behind our proven pricing methodology, optimized and perfected over our 10 year history of data driven domain valuation.

Participants will learn how to:
• Determination of domain pricing objectives
• Unlock the hidden brand value of domain names
• Avoid common domain sales missteps such as pricing based upon traffic volumes or revenue multiples
• Maximize your profits through proper determination of Asking, Reserve and Floor prices
• Use of negotiation tactics designed to insure "win/win" outcomes for both buyer and seller
• Enjoy domain sales results similar to those reported each week by AfternicDLS"

The webinar will conclude with a question and answer session. The event will run from 2:00-2:30pm (U.S. Eastern time) on the 22nd. You can register for the event here.