Photos of Alleged SnapNames Shill Bidder Nelson Brady and Our Thoughts on a Scandal That is Rocking the Domain Industry
At the 2007 T.R.A.F.F.I.C. West conference in Las Vegas I was scheduled to speak about the domain aftermarket at a closing day luncheon sponsored by SnapNames.com. Two of the

company's Vice Presidents, Mason Cole and Nelson Brady, spoke to the crowd just before I went to podium and I took the opportunity to snap some photos of them for our files. At the time SnapNames was riding high and less than six months later the company would be scooped up by Oversee.net in a deal reportedly worth $25 million.

On that Wednesday in March 2007 I met Brady for the first time and he came across as a very personable and intelligent guy. No one could have guessed that, if company allegations released today are true, Brady, under the user name Halvarez, had already been been involved in rigging SnapNames auctions for two years, behavior they say continued for two more years before SnapNames finally discovered the fraud and made it public in a letter to their customers today.

Brady was fired a week ago Monday, but

Nelson Brady
Former SnapNames VP of Engineering
who is accused of shill bidding in thousands
of domain auctions dating back to 2005.
(Photo copyright - DNJournal.com)


the fallout from the scandal will be felt for a long time to come and, like a dirty bomb going off in a metropolitan area, the radiation will contaminate innocent people as well as the guilty. Bidders are now asking if they can trust anyone. While SnapNames obviously faces the biggest hurdle, other companies will also have to reassure skeptical customers that they provide a level playing field. That started just hours after the SnapNames news broke when one of their chief competitors, NameJet, sent a letter to their customers saying they had systems in place to prevent the same thing from happening there.

A quick read of commentary on blogs and in domain forums shows that the distrust is spreading beyond auction houses to all kinds of industry service providers, including PPC companies and affiliate programs. The incident has also given the industry's critics fresh ammunition that they are using to try to taint everyone involved in the domain business. For one man, Brady is causing an incredible amount of collateral damage beyond the millions he could cost his former employer in legal fees and settlements with customers who were shortchanged.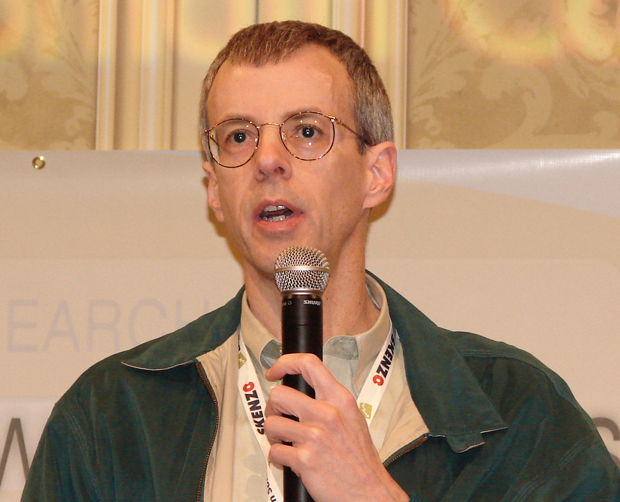 Nelson Brady speaking at T.R.A.F.F.I.C. West in Las Vegas in March 2007
(Photo copyright - DNJournal.com)

Brady reportedly drove prices up with fraudulent bids in as many as 50,000 auctions. SnapNames announced a plan to compensate their customers, saying "in every auction where the employee's fictitious account submitted a bid which resulted in a higher price being paid by the winning bidder, SnapNames will offer a rebate, with 5.22% interest (the highest applicable federal rate during the affected time period), to affected customers for the difference between the prices they actually paid and the prices they would have paid, had the employee not bid in the auctions. The rebate will be available in cash or in credit on the SnapNames platform, at your discretion.
"
It was wise for SnapNames to lay their cards on the table and declare their intention to make things right, but this remains a nightmare situation for everyone. In addition to SnapNames' financial liability to customers, anticipated legal fees and the hit to their reputation, bidders have lost untold thousands of dollars as well as domains they should have won. As for Brady his career is obviously in tatters. One can only imagine why someone with his background would go down this path. A brief bio on Brady's at ICANNWiki says "Nelson is the VP of Engineering at SnapNames.com and also manages TelID's technical operation. He has 20 years experience in the design and implementation of complex software systems. Nelson's experience includes key technical positions at Dynamics Research Corporation, Mentor Graphics, OrCAD and Tektronix. Nelson has been a member of the Portland Venture Group, advising early stage companies on software application development." If the charges against him are true - and no one has heard his side of the story yet - where will he be welcome now?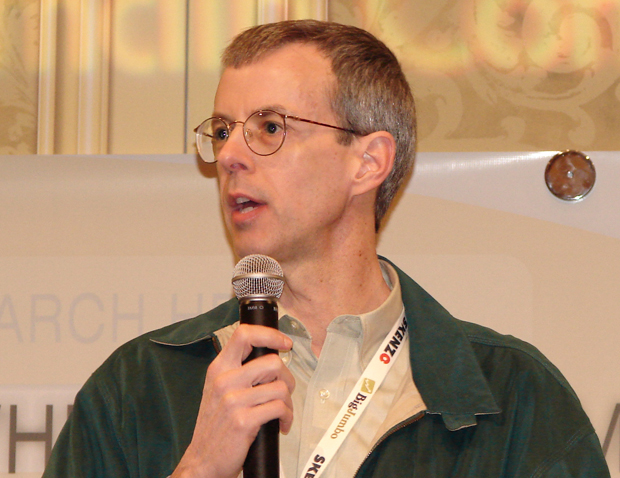 \
(All photos on this site copyrighted by DNJournal.com
and may not be copied or reproduced without written permission)
The primary question being thrown at SnapNames now is how did Brady get away with this for four years, especially when many domainers say they spotted the fraudulent bidding patterns in the Halvarez account and repeatedly alerted the company. I spoke with Oversee VP of Communications Mason Cole this evening and he said Brady held a position of trust, covered his tracks well and was the last person anyone expected this from. "We all feel wounded here," Cole said.