The Sky is Bright for Domain Owners Who Diversified - Part 3 - "Going to the Dogs" Isn't a Bad Thing When it Comes to Development
On Friday When I wrote about four domain owners who are pursuing development strategies aimed at putting them in control of their own destinies, I didn't plan for it to become a series. But yesterday I learned about Rick Latona's new wine club ecommerce site at Vino.com and since it tied in to Friday's post so well I wanted to bring it to your attention and that became part 2 on the "diversification by
development" theme.
Again, I thought that would be it on that topic for now, but then Elliot Silver sent out a press release today announcing his latest site development project at DogWalker.com. This site exemplifies two things that I think are so critically important for successful development that it has to be included in the discussion. So welcome to part 3 on this topic!
Now, as most of you know, this is not Elliot's first rodeo. He has developed a number of sites and has chronicled his development experiences so that others can learn from them at ElliotsBlog.com.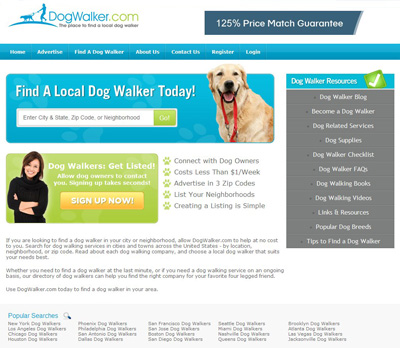 Screen shot from Elliot Silver's DogWalker.com
We both believe that your best chance for development success is to 1) find an underserved niche market so you won't be smothered by well financed and firmly entrenched competitors and 2) pick a subject within that niche market that you are personally interested in (preferrably not just interested in - but passionate about).
If you care about the subject, all of the work you have to put into developing content and building the site will feel a lot less like work. It can even be fun - a much better state of mind to deal with than drudgery which is what you get when you have spend all of your time on a topic that bores you to tears. If it is fun you are more likely to stick with it and your readers will sense your enthusiasm. If it is drudgery, you aren't likely to please your site visitors and you certainly won't please yourself.
For the past seven years I have been spending as much as 80-90 hours a week, 52 weeks a year, producing DN Journal and I can honestly say I still love writing about the subject of this site - domains and the people who love them as much as I do. Though I am interested in a lot of other things, I don't think I am passionate enough about any of them to be able to devote that kind of time to them without quickly burning out.
Elliot Silver

In Elliot's latest case study, he has found a legitimate niche market - dog walking - that is underserved on the web. He is also a dog lover (the idea for his site arose when he found it difficult to find something he needed for his own pet - a reliable dog walker). In my opinion he just cleared the two biggest hurdles you have to get over to have a good shot at making money from your website.

As someone who knows and loves his subject matter, he has a chance to become a dominant force in his niche with an attractive directory on a category killing domain that will bring dog lovers and professional dog walkers together. Yes, there is a lot more to do before the money starts rolling in. You have to keep producing fresh content to attract an audience and then you have to find advertisers who are willing to pay to reach the eyeballs that are coming to your site. But those two things are a lot easier to accomplish when the other two - the right niche and a real love for the subject - are in place.
You can read Elliot's press release at DogWalker.com to get more insight into his strategy for the site. I'm also sure he will blog about how things are going as time goes on. He has done that with his previous developments, sharing what has worked for him as well as those things that wound up being a waste of time and money. That is valuable information that has earned him a very loyal following among other domain owners who also want to end (or at least lessen) their dependence on PPC, affiliate programs or domain sales.

Though you could fail many times before you succeed, I still believe that a well developed rich content or ecommerce site is the best way to make sure that you are the one who holds the key to your domain's cash register.

If our dog Savannah could talk, I'm sure
she would be excited about
DogWalker.com. She has a hard time
getting me away from the computer long enough to take her for a walk.