Opening Night Photos and Highlights From the 2010 Domainer Mardi Gras Conference in New Orleans
The 2010 Domainer Mardi Gras Conference got underway last night with a welcoming cocktail party at the show venue - the New Orleans Marriott, a hotel that is perfectly located on the western edge of the French Quarter within a couple of blocks of both Bourbon Street and one of the main Mardi Gras parade routes, St. Charles Avenue.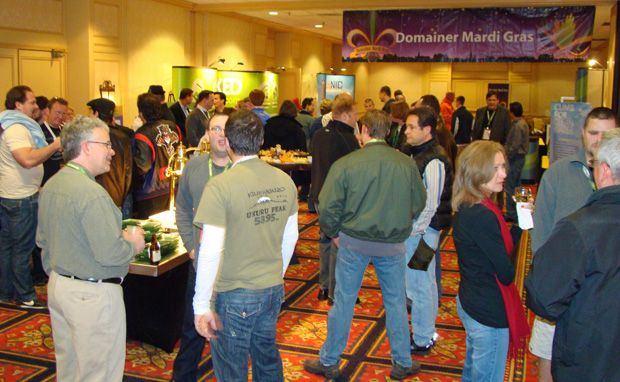 Scene from the Domainer Mardi Gras welcoming cocktail party
at the New Orleans Marriott Thursday night (Feb. 11)
With severe winter weather disrupting travel plans to New Orleans from several other parts of the country, some people who had planned to attend were forced to cancel. Others, in a testament to how much they wanted to be here, managed to complete the trip despite a number of obstacles thrown in their way. When DomainNameWire's Andrew Allemann had his connecting flight from Austin to Dallas cancelled he grabbed a rental car and drove eight hours, most of it in a steady rain, to reach the Big Easy last night (Andrew and I will join forces for a Reporter Roundtable session this afternoon).
Brothers Michael and David Castello, who will also be speaking later today, finally arrived after a snowstorm in New York City had left them temporarily stranded following their talk at the Borrell Associates Local Online Advertising conference there on Tuesday.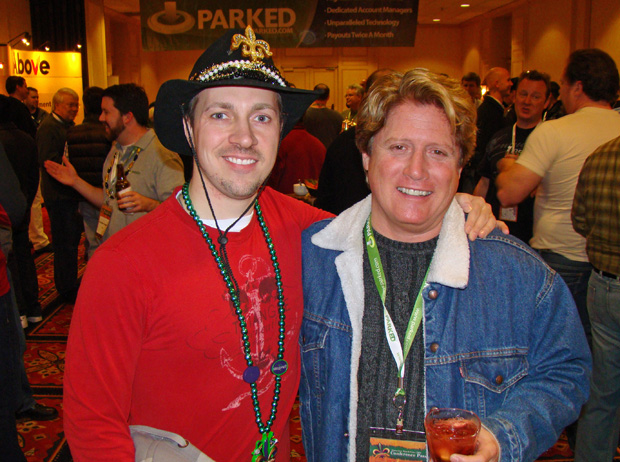 Sean Stafford (Comwired.com) and Michael Castello (CCIN.com)
enjoy the opening night cocktail party at Domainer Mardi Gras.
Despite people's travel travails, there was a good crowd on hand last night and more will be coming in today. With a cold rain falling outside, a bus was brought in after the cocktail party to transport attendees to the opening night's main event, a traditional New Orleans Crawfish Boil held at a tri-level rowhouse located a few blocks west on Camp Street. Guests sat down for the feast under tents in the courtyard or in one of several dining rooms set up indoors.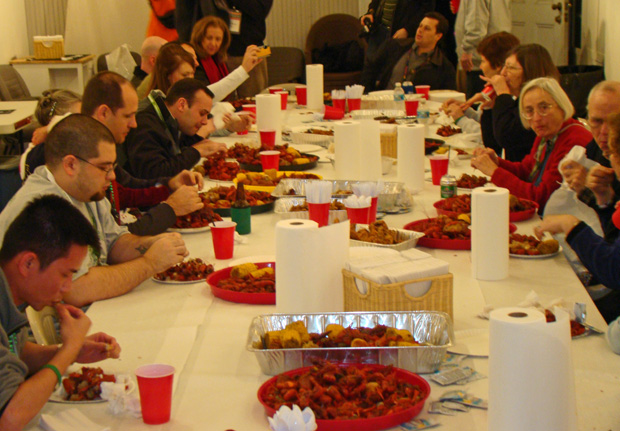 Guests plow through mounds of crawfish at the Crawfish Boil Thursday night.
I spent a good part of the Crawfish Boil watching in amazement as Scott Ross (Promediary.com) consumed a prodigious number of mudbugs. Scott decided to treat his son Evan to a taste of domain life by bringing him along on a 14-hour road trip from their Miami area home. Scott obviously worked up an appetite along the way. No one keeps track of who eats how much, but if there is a crawfish eating contest in the future, I'll take Scott and give up the points (or in this case the pounds - of crawfish). Having watched him in action I would say he would be about a 14-pound favorite over just about anyone.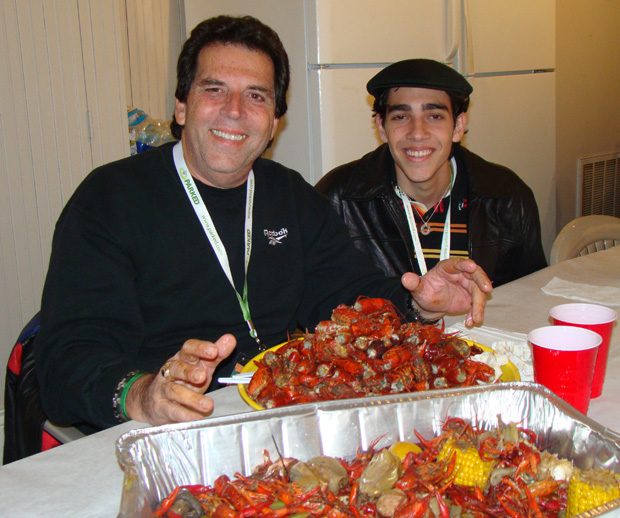 Scott Ross (left) and son Evan at Thursday night's Crawfish boil. Scott hovers
over the remains of one platter while preparing to raid the tray for a refill.
The first full day of business at Domainer Mardi Gras gets underway this morning with a 10:30am session called Show Me the Money! that will focus on new domain monetization models. After a lunch break the Reporter Roundtable will be held followed by a panel offering website building tips then one that will discuss ICANN's plans to roll out an unlimited number of new gTLDs. That will end the business day at 5pm.
At 6 o'clock, Parked.com's private balcony will open on Bourbon Street, giving guests a birds eye view of the Mardi Gras revelry on the street below. The balcony will be open until 3am which could make for light attendance at breakfast tomorrow morning. I'll have photos and highlights from all of today's (and tonight's) activitities for you in a post Saturday.