Weekend News Round Up: T.R.A.F.F.I.C. Vancouver Update - Photos from T.R.A.F.F.I.C. Milan - Registration for DOMAINfest Europe Opens - Nelson Brady Responds to $33 Million Lawsuit - E.co is Going Up for Bid
What is shaping up to be the biggest T.R.A.F.F.I.C. conference of the year to date gets underway a week from Tuesday (June 8) at the Renaissance Vancouver Harbourside Hotel in Vancouver, British Columbia. Canada's first ever T.R.A.F.F.I.C. conference will run through Thursday, June 10. Conference organizers (led by Rick Latona) have updated the show's website with new details on the daily conference agenda.

I will be one of the panelists (along with Neustar's Ken Hansen and WebNames' Steve Smith) for T.R.A.F.F.I.C. Vancouver's first seminar on June 8th starting at 11:15am. The session is titled ccTLDs Are Taking Over the World - Is North America Immune? and much of the discussion will center on the prospects for America's .US extension and Canada's .CA TLD.

One of the day two highlights in Wednesday, June 9 will be a 1pm Fireside Chat with John Demco, the man who conceived the .CA country code domain in 1987 and served as the

.CA pioneer John Demco with T.R.A.F.F.I.C.
conference moderator Rick Silver (right).

extension's initial Registrar. Demco chaired the .CA Domain Committee until 2000, participated on the Canadian Domain Name Consultative Committee (which made recommendations concerning the structure and organization of .CA) and helped establish the Canadian Internet Registration Authority (CIRA) where he continues to serve on the Board of Directors.

John is often referred to as the "Godfather" of .CA and in 1997 he was recognized by Canada's Prime Minister as a founder and builder of the Canadian Internet.
Day two will conclude with a .CA only live domain auction from 4:00-6:00pm. The big all-extension main auction will provide the show's grand finale the next day (June 10) with that live auction slated to run from 3:45-6:45pm local time.
Speaking of T.R.A.F.F.I.C., I had a previous commitment to speak at and cover the 2010 GeoDomain Expo in New Orleans at the same time the last T.R.A.F.F.I.C. conference was running in Milan, Italy in late April. Conference moderator Rick Silver's lovely wife Debbie took plenty of photos though and those have now been posted online here. Rick also sent me the shot below from the Latonas.com auction in Milan that generated over half a million dollars in sales.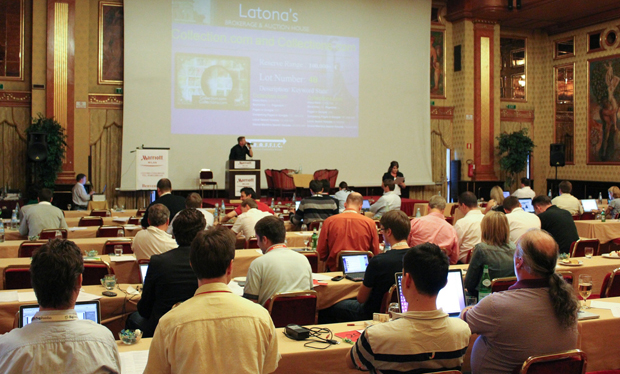 Scene from the Latonas.com live domain auction at T.RA.F.F.I.C. Milan in April 2010.
In another conference note, Oversee.net's DomainSponsor unit has announced the agenda and opened registration for their DOMAINfest Europe conference coming up in Prague, Czech Republic October 6-7, 2010. You can save a lot of money if you register before July 1. A $395 early bird rate is available until then. If you wait until October it will cost you $695.

The opening day will include a series of educational seminars, power networking sessions and a live domain auction while day two will be dedicated to the

registrant's choice of several unique excursions around Prague. Those are designed to help attendees build meaningful personal relationships by sharing one-of-a-kind experiences in the historic host city.

Oversee.net Senior Vice President Peter Celeste said, "From start to finish, our goal is to create an atmosphere and experience that fits with our DOMAINfest Europe theme: Building Bridges. Building Success. And for the first time ever, we will offer free on-site interpreters in select languages to help the largest groups of non-English speaking guests get the most out of their DOMAINfest experience."

Nelson Brady AKA "Hank Alvarez"

In another piece of important Oversee related news this week, Nelson Brady, a former VP of Oversee's SnapNames.com auction unit, admitted to shill bidding activity while he worked for the company. When Brady was caught he lost his job and is now facing a $33 million lawsuit filed against him by Oversee.

As Domain Name Wire reported Wednesday, Brady's response to the Oversee lawsuit cited a desire to raise money for future health care needs as the primary motivation for opening an account under a pseudonym ("Hank Alvarez"), an account he used to acquire names for himself as well as to increase the amount other bidders paid for his company's names.

Excerpts from his response said, "Brady mistakenly and wrongly believed that increasing other bidders' bids would help a small number of SnapNames and Oversee employees other

than Brady retain their jobs by creating better financial health for the companies....Brady's mother suffered from a genetic neuromuscular disorder and died at age 56 wheelchair bound...Brady has the same symptoms as his mother....All these symptoms have gradually worsened as Brady ages (he is currently 54).... Brady's use of the Hank Alvarez account to purchase domain names and accumulate savings for long term health care was driven by his intense fear that at some future undetermined time he will become incapacitated like his mother." You can read Brady's complete response here.

Wrapping up our weekend news roundup, Sedo announced they will support the introduction of the .CO TLD by powering a charity auction for an extremely attractive domain name - E.CO. The auction will run from June 7 at 12 pm EDT to June 10 at 4 pm EDT and will be hosted by the .CO registry, .CO Internet S.A.S., at Internet Week, a festival in New York City celebrating all things Internet.

The last hour of bidding – June 10 from 3-4 pm EDT - will be conducted live from Internet Week's broadcast stage and simulcast at both the Internet Retailer conference in Chicago and the

T.R.A.F.F.I.C. conference in Vancouver, allowing show attendees at all three events and online participants from around the world to be a part of the action. In an especially nice twist, all proceeds will go to the charity of the buyer's choice.

Juan Diego Calle, CEO of .CO Internet S.A.S., said "Since the dawn of the Internet, the letter "e" has come to signify all things electronic – from email and e-commerce to online exploration, education and entertainment – and everything in between. When paired with the .CO domain, the letter "e" takes on an even greater significance – offering buyers "perhaps the shortest, most memorable digital brand in the world – a domain name with endless possibilities."
(Posted May 29, 2010)