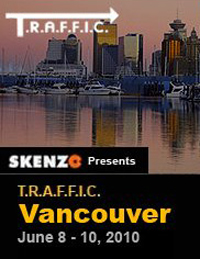 Many of the domain industry's movers and shakers will be converging on Vancouver, British Columbia next week for Canada's first-ever T.R.A.F.F.I.C. conference. The event gets underway Tuesday morning (June 8) at the Renaissance Vancouver Harbourside Hotel where it will run through Thursday (June 10).
It is a long haul from our home base here in Florida so I'll be making the trip northwest Monday to make sure I'm there in plenty of time to cover the event for you. It gets underway the next morning with a ccTLD panel discussion that I will be participating in. I'll have daily reports from Vancouver in this column starting Monday evening.
New DomainIT.com VP Victor Pitts is also heading to Vancouver where he will join the Castello Brothers on the opening panel discussion Wednesday morning. Victor's duties at DomainIT include re-launching the company's iGoldRush.com website. iGoldRush is a content rich domain /internet business resource site that was originally founded in 1996 by Edwin Hayward. After Hayward moved on to other interests, DOMAINit founder Paul Goldstone bought the site and his company has now upgraded the iGoldRush content as well as its resources guide and domain guide and they have also added interactive functionality that visitors will appreciate.

Several other totally new industry sites have also debuted this month. Emil Paulsson, the CEO at Swedish company Snapback AB, tells us they have launched a new version of their drop catching service for U.S., UK and international markets at www.Snapback.se/eng. They offer

Victor Pitts
Vice President, DomainIT.com

backorders for expired names in a number of extensions, including two favorites in Sweden - .SE and .NU.
A new domain news aggregation service, Domaining20.com has also entered the ring to compete with established sites like NameBee.com, DNHeadlines.com and the 800-pound gorilla in that category - Domaining.com. A new auction service is also up and running at AuctionPus.com. The wrinkle they bring to the standard domain auction format is limiting the number or domains offered to just eight a day - a strategy meant to keep listings from getting lost in a crowd.
Speaking of auctions, NetFleet.com.au is running the first of what they say will be many auctions focused on domains representing Australia's .com.au extension. Their debut auction is currently underway and is slated to finish on Wednesday (June 9) at 3pm (Australian EST). Be sure to take the time difference between you location and that Aussie time zone in account if you want to bid. You can view the complete catalog and place bids here.
Lizzy Grant/Lana Del Ray

One other note today, recording artist Lizzy Grant, AKA Lana Del Ray, (the daughter of veteran domainer Rob Grant), has spent much of this month recording and performing in the UK. Rob wisely grabbed the domain names LizzyGrant.co.uk and LanaDelRay.co.uk when Lizzy started making waves on the other side of the pond (the Grants are from upstate New York).

Lizzy has already caught the attention of a number of influential UK music blogs including Neon Gold who posted a capsule review of our favorite upcoming singer that includes a cool music video. Another, Dots and Dashes wrote, "Caught between New York and London, Lana del Ray's all about one of the most heart-arresting boombox voices of recent times, taking in Howling Bells' Juanita Stern's siren-like slur, Debbie Harry's cocksure nonchalance and all those mainstream gals that only really have one song that's even vaguely aurally pleasant."
Now here is a special treat for you - a free download of one of Lizzy's hottest new tunes, "Diet Mountain Dew." With Lizzy drawing rave reviews on both sides of the Atlantic it looks like just a matter of time before she breaks out in a big way.