The Oh Canada! panel discussed current CIRA initiatives to promote the .CA extension as well as issues related to the future direction on the ccTLD - most notably whether or not .CA's requirement that those registering .CA domains have a Canadian presence. CIRA has uphold that rule in the past but has expressed a willingness to at least discuss changing it. Businessmen like Maxmych and Muscovitch think the kind of open registration approach used by many other ccTLDs would enhance Canada's position in global ecommerce.
I was especially impressed by CIRA's .CA promotional efforts, including extensive advertising and contests, that Fowler showed in his presentation. That has helped .CA's share of total regstrations in Canada rise from 21% to 27% over the past three years while .com's share has decreased. Fowler was brought on board to proactively market his country's extension and I think the results he has achieved serve as an example that other ccTLD regstry operators could successfully follow.
The day closed with a .CA domain auction (with a few Canada related .coms sprinkled in) conducted by Rick Latona Auctions.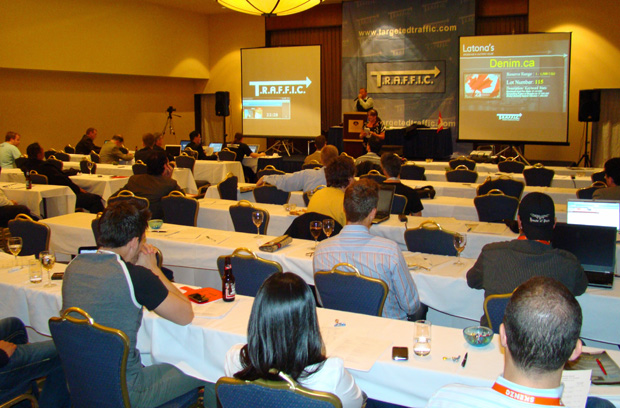 Scene from the Rick Latona Auctions .CA domain auction Wednesday afternoon in Vancouver.
The auction wound up generating over $260,000 in sales with Surrey.com generating the lion's share of the revenue with a $195,000 sale (Surrey.com is a developed website devoted to the city of Surrey, British Columbia, so it is not purely a domain sale - but is an impressive transaction none the less). The top .CA sales included Snowboards.ca ($20,250), Diet.ca ($20,000) and Vehicles.ca ($9,000).
After the auction, PPX International Executive Chairman Gregg McNair opened the doors to his suite on the top floor of the show venue, the Renaissance Vancouver Harborside Hotel, for a party open to all conference attendees. That event started at 6pm and was still going strong when I finally called it a night at 10:30pm.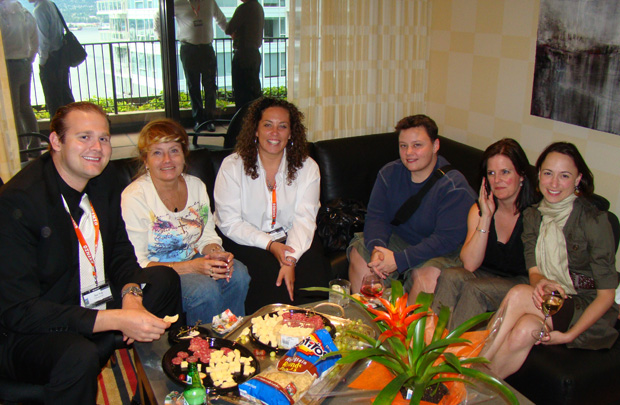 (L to R): Ray Neu, Diana Jackson, Laura Schmidt, Kellie Peterson, Susan Prosser and Jodi Chamberlain at last night's post auction party hosted by Gregg McNair. Other guests on the balcony in the background took in the panoramic view of Vancouver's Coal Harbour from the 19th floor suite.
The final day of T.R.A.F.F.I.C. Vancouver gets underway today at 11am local time (2pm U.S. eastern time) with a panel session on Domain Development. It will be followed by seminars on Mastering the Resale Market and Advanced Parking Solutions, then at 3:45pm (6:45pm Eastern) the Main Live Domain Auction, staged by Rick Latona Auctions, is scheduled to get underway.
I'll have the closing day photos and highlights for you in my last post from Vancouver early Friday morning before we begin the return trip to our home base in Florida.