The 2010 T.R.A.F.F.IC. Vancouver conference came to a close Thursday evening (June 10) at the Renaissance Vancouver Harbourside Hotel overlooking the scenic Canadian city's Coal Harbour. The final day of the first T.R.A.F.F.I.C. conference ever held in Canada opened with an 11am seminar on Domain Development: In-House or Outsource?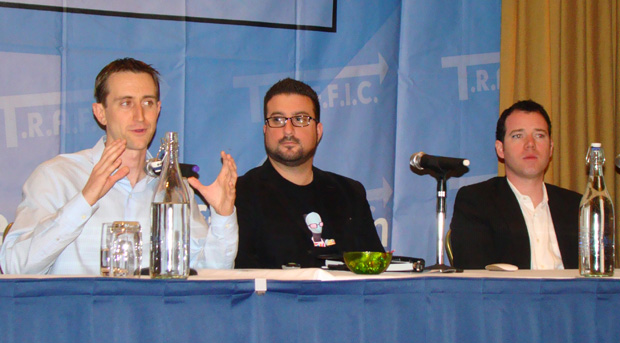 (Left to right): Domain Development panelists Morgan Linton (MorganLinton.com),
Mark Michael (DevHub) and Kevin Legault (n49 Interactive)
Panelists Morgan Linton, Mark Michael and Kevin Legault pointed out the pros and cons of various domain development strategies and platforms. I'll have details on their session (and all of the other T.R.A.F.F.I.C. Vancouver business sessions) in a comprehensive conference review article that we will be publishing late next week after getting back to our home base in Florida where we will sort through the hundreds of photos and pages of notes we took during the show.
At noon, show attendees headed for the exhibition hall to watch a televised simulcast of the live E.CO domain auction being held in New York. The T.R.A.F.F.I.C. Vancouver attendees gathered around a TV screen set up at the .CO Registry's booth where they watched E.CO close at $81,000.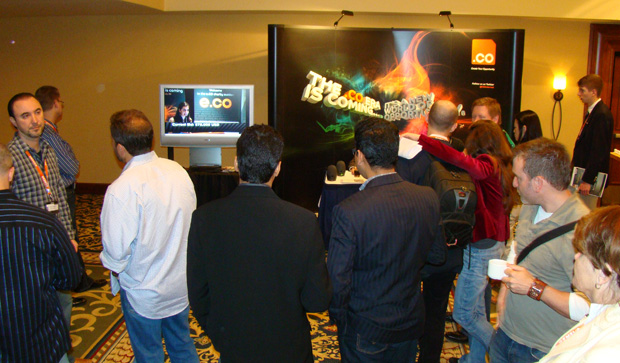 T.R.A.F.F.I.C. Vancouver attendees watch a televised live simulcast of the
E.CO domain auction as it happened in New York Thursday afternoon.
A joint press release from Sedo (who handled the auction) and the .CO Registry was issued after the auction. It said that Lonnie Borck from B52 Media and Uri Kerbel from Bookmarks.com joined together to place the winning bid in the auction. As the registry had previously announced, all proceeds from the sale will go to a charity selected by the buyers and approved by .CO Internet (the charity will remain anonymous at the buyers' request.) The auction was part of the ongoing launch of the .CO TLD.
After the break to watch the E.CO auction, the crowd reassembled in the meeting hall for a session on Mastering the Resale Market that featured (left to right in the photo below) Jason Miner (Senior VP at NameMedia), Victor Pitts (DomainIt.com/iGoldRush) and Jeff Gabriel (Senior Broker at Sedo).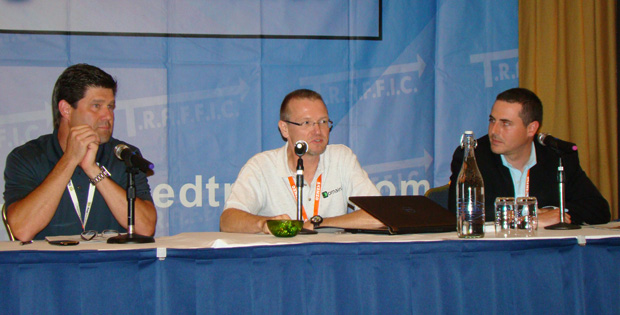 The panelists, who have combined to sell millions of dollars worth of domain names, provided tips on the best ways to successfully market and sell your names. I'll be running down some of their specific suggestions in our upcoming conference review article.
The final seminar of the conference, Advanced Parking Solutions, followed with (left to right in the photo below) Dan Warner (CEO, DomainAdvertising.com), Craig Rowe (WhyPark.com) and Richard Lau (PPX International/DomainManager.com) detailing some of the new parking and monetization platforms that have been developed in an effort to boost domain earnings.
Once that session concluded, just one event remained on the 2010 T.R.A.F.F.I.C. Vancouver agenda - the Latonas.com main live domain auction. It wound up producing just under $700,000 in sales with a pair of six-figure blockbusters providing most of the firepower. Those were Jewelry.net at $270,000 and CloseOut.com at $200,000. Other notable sales included XYZ.com and Cardiologists.com at $50,000 each, SalesPeople.com at $40,000, HAA.com at $18,500 and Telephone.net at $18,000.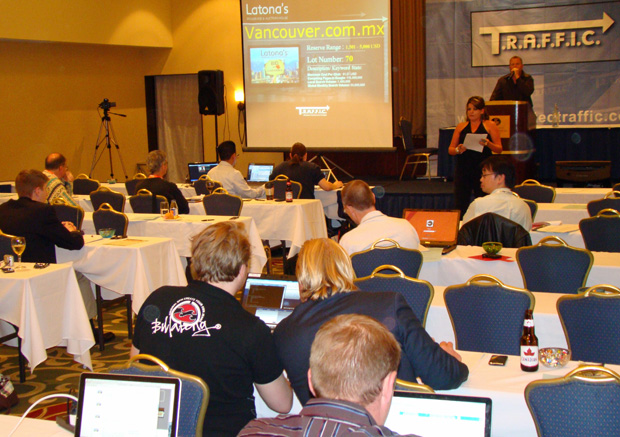 A scene from the Latonas.com live domain auction at T.R.A.F.F.I.C. Vancouver Thursday.
The auction brought the curtain down on the year's most satisfying T.R.A.F.F.I.C. conference to date - one that reflected the hard work put into staging the event by Rick Latona, Toby Clements, Jodi Chamberlain, Ray Neu and the rest of the Latona team. The show was made even more memorable by its location in one of the world's most beautiful cities, so a special thank you to Vancouver, British Columbia as well.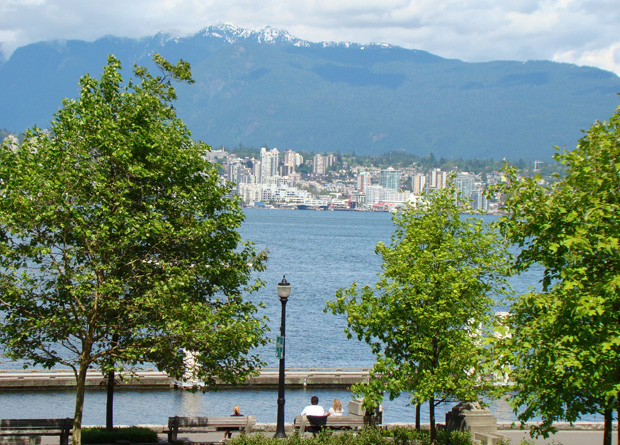 A snapshot of Vancouver's Coal Harbour taken just a few steps from the T.R.A.F.F.I.C. venue.
Next up for the T.R.A.F.F.I.C. team will be an August 24-26 show that will be held in Dublin, Ireland. Look for details on that show to be posted soon on the T.R.A.F.F.I.C. website.