in early 2011. Mason said the new platform, to be implemented through Seed.com, will produce advantages for advertisers and publishers alike. He stressed the importance of the domain channel to AOL and the flexibility of the upcoming initiative.

Mason also fielded questions from the audience to close out the well-received session.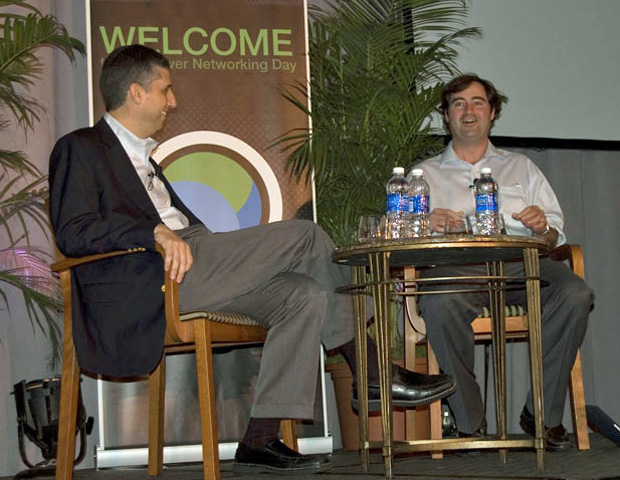 Above: AOL Senior VP David Mason (right) fields questions from Jeff Kupietzky
and the audience during a keynote fireside chat at DOMAINfest New York.
Below: Part of the crowd on hand for the keynote session.
After a noon lunch break, attendees returned to the conference floor for a two-hour power networking session that featured experts in four different fields who were on hand to answer questions one on one. The experts set up in four different areas and wore white lab coats to make them easy to identify. Attendees could then circulate around the room to get advice.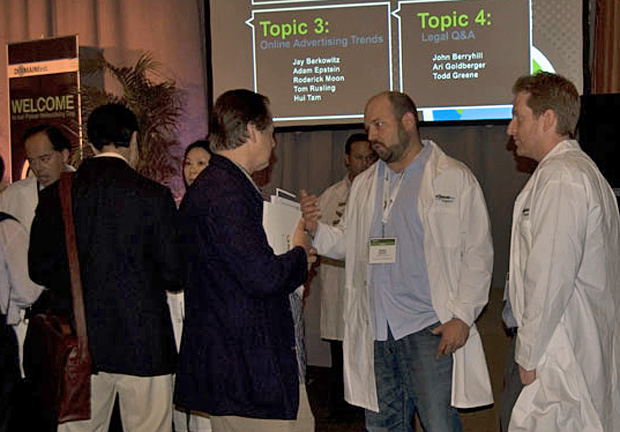 A scene from one of the power networking discussions at DOMAINfest New York.
The four topics covered and the experts who provided advice were:
Topic 1: Local Search Trends – Is it Time to Invest?: Andrew Allemann, David Asplund, Elliot Silver, Frank Langston, Steven Kaziyev

Topic 2: How to Get the Most out of Affiliate Marketing: Dan Ho, Evan Horowitz, Reed Shelley, Adam Weiss

Topic 3: Online Advertising Trends: Jay Berkowitz, Adam Epstein, Roderick Moon, Tom Rusling, Hui Tam

Topic 4: Legal Q&A: John Berryhill, Ari Goldberger, Todd Greene
The final order of business was Moniker's big live domain auction that got underway at 4pm. That event, conducted by auctioneer Wayne Wheat, wound up generating $1,801,900 in sales from the show catalog ($1,265,000 of that amount came from a five-name package including T-Shirts.com that was actually closed in a separate deal the day before it was scheduled to go on the block during the live event. We posted more details on that deal in our weekly domain sales report).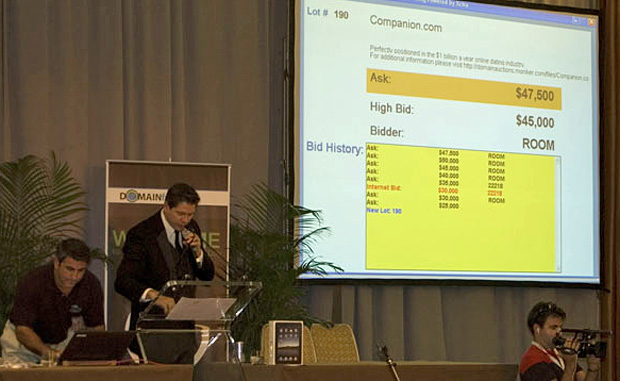 Above: Monte Cahn (Moniker.com) & Auctioneer Wayne Wheat (standing) run the live auction.
Below: Part of the crowd on hand for Moniker's live domain auction.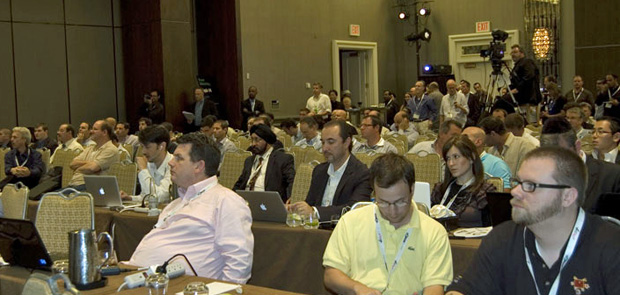 Other notable sales from the auction included Disco.com ($255,000), BigApple.com ($70,000), NewYorkApartments.com ($65,000), Companion.com ($45,000) and, in what may have been the deal of the day, Exterminating.com at $35,000.
The curtain came down on DOMAINfest New York with a 7:30pm Networking Dinner Party hosted by DomainSponsor.com.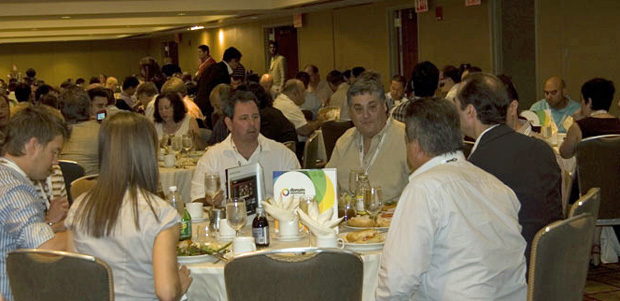 Attendees wrapped up a busy Power Networking Day at
DOMAINfest New York with this evening dinner party.
DOMAINfest New York drew a lot of favorable mainstream media attention, including this video report at CNNMoney.com and wire service coverage from Reuters. With another successful show under their belt, the DOMAINfest team now turn their attention to the other side of the Atlantic for DOMAINfest Europe 2010 which is coming up in Prague, Czech Republic October 5-7, 2010. Early registration is available through Tuesday, August 31 for $495. The standard conference rate of $595 will then be in effect through September 30.