At T.R.A.F.F.I.C. Ferber will join a panel discussion Monday, Oct. 18 titled Where Are Our Developing Partners? He will be joined on the dais by an all-star industry line up that will include Ted Olson (Smartname.com), Rob Monster (Epik.com), Craig Rowe (WhyPark.com), David Castello (CCIN.com), Michael Castello (CCIN.com) and Dan Warner (DomainAdvertising.com).
Congressman Stearns, a member of the powerful Energy and Internet-Sub-committee, will also appear on the 18th to bring attendees up to date on the latest bills that effect Domains and the Internet. The T.R.A.F.F.I.C. Miami agenda is nearing completion. You can check out the full schedule here.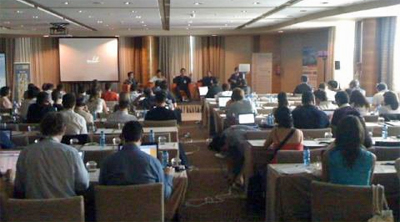 One other note from the show circuit - Inverdom.com's Dietmar Stefitz, who staged the Domaining III conference in Valencia, Spain last week, sent out a release today with some extra details about what happened there. Stefitz said nearly 100 people (including 16 speakers) representing 12 countries attended Spain's biggest domain conference. The show closed Saturday (Sept. 25) with the presentation of its Domaining 2010 Awards.
Scene from the Domaining III conference
last week in Valencia, Spain
The award winners were as follows:

Best Domainer of the Year: Luis Tolosa from Domibay.com.

Best Domaining of the Year: Javier Ruiz from Domisfera.com.

Honourable Domainer Mention: Michael Castello and David Castello of CCIN.com (who were also keynote speakers at the show along with Sedo CEO Tim Schumacher).

Honourable Domaining Mention: Jordi Planas for this knowledge of the sector and its legislation and his efforts to improve Dominios.es management.

The award winners were chosen from nominees received by a panel of judges that included Alejandro Suárez Sánchez-Ocaña, Francisco Santibáñez Pérez and Félix Mezcua Coronil.

Luis Tolosa of Domibay.com
receives Domaining III's Best
Domainer of the Year Award
from Félix Mezcua Coronil (left)
who represented the judges.