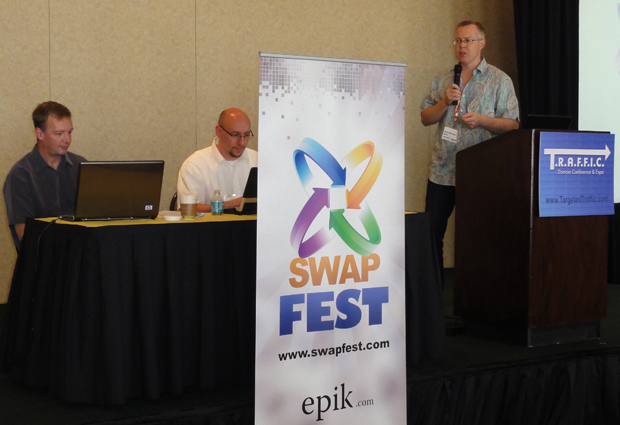 Above: Epik.com CEO Rob Monster (at far right) conducts Swapfest on the closing day
of the 2010 T.R.A.F.F.I.C. Miami conference Wednesday (Oct. 20).
Below: Part of the crowd on hand for Epik's Swapfest event.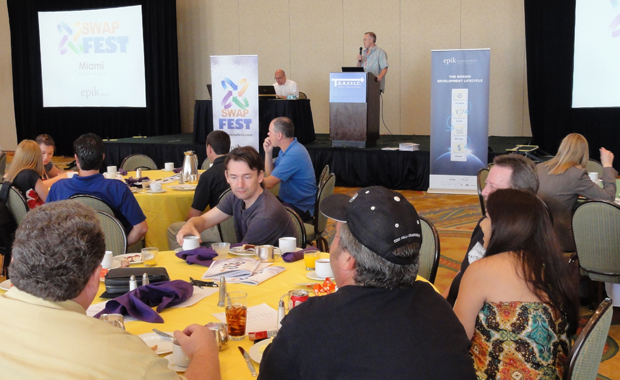 Several things make Swapfest a unique sale. For one, all domains include a website developed on the Epik platform and for another, you can pay for winning bids with either cash of Epik bucks, a new form of currency invented by the company to bring added liquidity to the market. We had to begin the trek back home before the sale ended and the results have not yet been posted but I would expect to see a recap soon on the Epik blog.
This was one of the best T.R.A.F.F.I.C. conferences ever (and many of those who attended have let show co-founder Rick Schwartz know that in comments on his blog). Schwartz and fellow Co-Founder Howard Neu, backed by a tremendous family support team in Barbara Neu, Ray Neu and Alina Schwartz, hit this one out of the park. The venue, the number and quality of people on hand, food service and programming all served to burnish T.R.A.F.F.I.C.'s luxury brand.

With so many new competitors cutting the conference pie into dozens of pieces, T.R.A.F.F.I.C., over the past couple of years, has experimented with different approaches (including lowering prices and trimming expenses) in search of the best combination to continue standing out in an industry category that this

Rick Schwartz and Howard Neu
T.R.A.F.F.I.C. Co-Founders

conference originated in 2004. Ironically, the formula that wound up working best, as clearly demonstrated in Miami, was the one they began with - do everything first class or don't do it at all.

I posted from Miami daily during the show but with while the conference was underway there wasn't time to go into a lot of detail about individual events or to edit and share more of the many photos we shot during the conference. We will be doing that in a comprehensive review article that we will publish around this time next week.
In this last of the daily reports from the show, I wanted to leave you with a personal note about what to me has been by far the biggest dividend I've received from attending so many T.R.A.F.F.I.C. conferences over the years. The show has a slogan - T.R.A.F.F.I.C Means Business - and it does - a remarkable number of major deals are cut at T.R.A.F.F.I.C. shows - but the bigger reward has been meeting a very special group of people and forming many personal friendships that I think will last a lifetime. I've done no business at all with many of these people, but they have enriched my life immeasurably. After a few days, the lights at the latest show go off, but the friendships go on.
I'll give you one example from the trip to T.R.A.F.F.I.C. Miami. Rob Grant (who I got to know well when writing a profile about him for an April 2000 Cover Story) lives in Lake Placid, New York, but also has a vacation condo on Anna Maria Island (a relatively unknown jewel on Florida's West Coast, about an hour south of our home in Tampa).

On the final night of the T.R.A.F.F.I.C. conference, Rob, who had not had a chance to stay at his condo for over a year, decided at the last moment that he wanted to stay over in Florida for a few days and go there. Knowing we would pass near Anna Maria on our way back home, he asked my wife, Diana, and I if we had room for him to hitch a ride to our side of the

Rob Grant and Ron Jackson on Anna Maria
Island (Wednesday, Oct. 20, 2010)

state. I was happy to have the opportunity to take him all the way to his front door because when I first moved to Florida from Ohio at the age of 22, I lived minutes away from his vacation getaway and for two years spent part of almost every day on the island's beautiful Coquina Beach. I was curious to see how much things had changed there over the past three decades. Fortunately, not much - it is still a little piece of heaven on earth.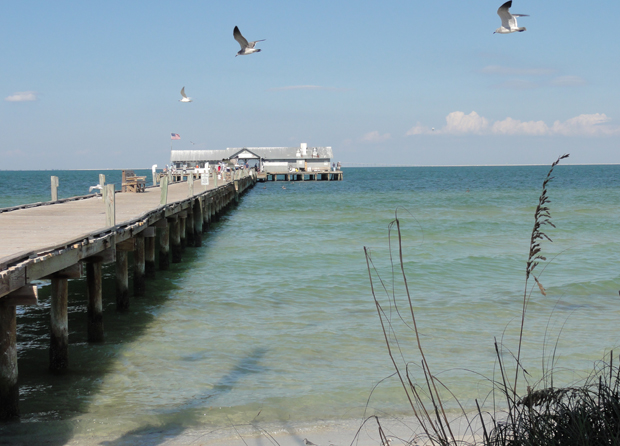 Above: the historic Anna Maria City Pier we visited with Rob Grant (Wed. Oct. 20, 2010)
Below: The Old Florida style restaurant at the end of the pier where Rob took Diana
and I to dinner (the fresh seafood was some of the best we have ever had).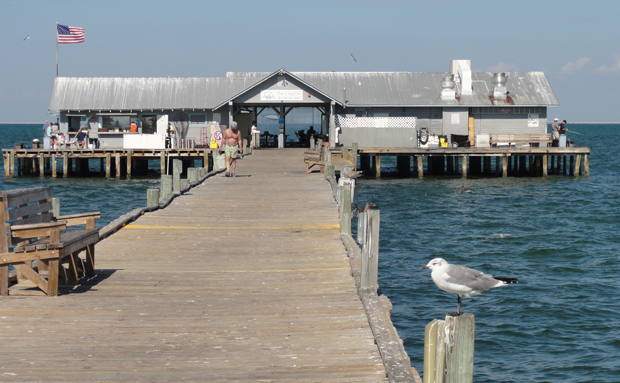 Below: After dinner Rob showed us around the island and he snapped the
picture of Diana and I below that was taken at a second pier, a short distance
up the coast from the first one (a record-breaking 17-foot shark that people still
talk about was caught off this pier several decades ago).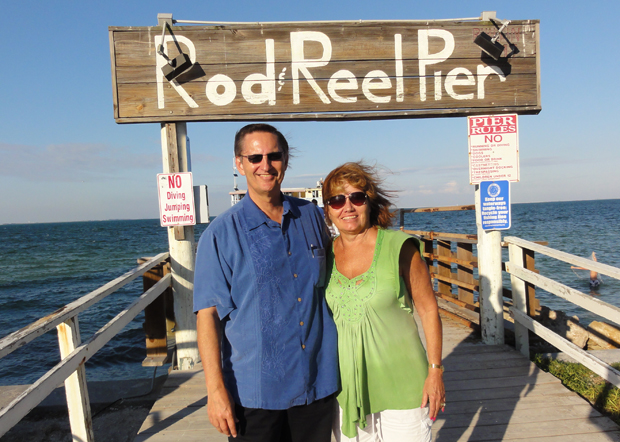 It was a very special day with Rob. Talking domains with him along the way made the four-hour drive from Miami feel like it went by in four minutes. The evening with him on the island was even better - a reminder that it is not the business, it is the people who make this field the best on earth to be a part of. T.R.A.F.F.I.C. brought us, and many other special people like Rob, together and, at least as far as I'm concerned, that is the greatest conference value of all.
Above: After leaving Rob, on the way home we stopped at Coquina Beach to watch the
sun go down. The perfect end to a perfect day and our latest T.R.A.F.F.I.C. adventure.