While I was away on a South Florida visit Friday, the Wall Street Journal ran a new feature piece spotlighting a special listing from real estate domain pioneer Rob Grant's AdirondackRealEstate.com website. The property represented by Rob's company that the WSJ showcased is Kilkenny Lodge - a magnificent Adirondack lodge built in 1901-02 as part of a summer compound for William Kingsley, a New York banker who became president of the U.S. Trust Company.

The lodge was selected for the spotlight in a new interactive WSJ feature that will be showcasing unique properties from around the world. Readers are invited to go online at WSJ.com/realestate to
post their guess as to how much the house will sell for - and when. The Wall Street Journal will track the Kilkenny Lodge listing for the next 6 months to see which reader comes closest to

Rob Grant

the final sales price if and when the property finds a buyer. For the record Grant is quoted as saying he expects the lodge to sell for close to the $690,000 asking price in mid or late summer.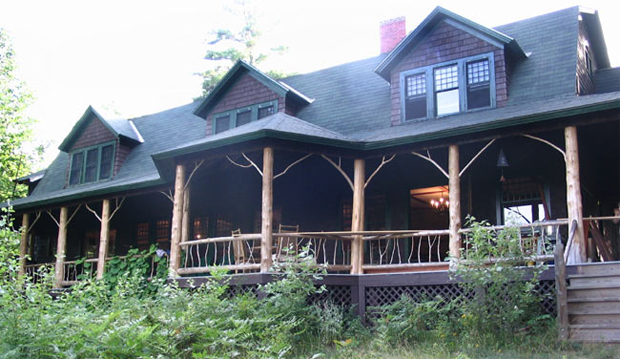 Kilkenny Lodge - what will Rob Grant sell it for?
The building has over 4,200 square feet and features seven bedrooms, six baths, hardwood floors, wood paneling, massive stone fireplaces, a private study and library, and a spectacular 80-foot long porch that stretches along the entire length of the lodge. The property is situated on a very private 2.3 acre plot surrounded by woods and streams with magnificent views of the surrounding mountains.
At 690k (less than the price of a number of individual domain sales we have seen over the past year) I could see any one of a number of domainer investors adding this property to their real world asset portfolio.
While I am playing catch up, I wanted to congratulate Dan Kimball of DNS.com on the sale of the managed domain name system (DNS) services provider he co-founded to Comodo.com. Kimball, who also served as CEO for DNS.com, also joins Comodo to continue the development of its next generation of DNS services.

Comodo offers a range of software products for enterprises to create trust online, including multi-factor authentication, and PCI/vulnerability scanning. DNS.com plays a key role in directing and managing Internet traffic, including the availability and security of websites and email. The company's global network of name servers helps visitors get improved performance from websites, content, and applications, ensuring that websites perform optimally. The acquisition of DNS.com gives Comodo the ability to immediately roll out secured DNS to the company's large base of business customers who require such a solution.

Dan Kimball
DNS.com
One other note today - the operator of the .Org registry - Public Interest Registry (PIR) - has announced that the popular TLD has passed the 9 million registrations mark. .Org grew over 10% in 2010 alone. Brian Cute, CEO of .ORG, said "Hitting the 9 million registration mark is a testament to

both .ORG's reputation and its impact within the Internet community. .ORG remains a community-driven platform and has become the domain of choice for organizations, individuals, and companies to channel their passion toward a shared purpose with their community."
I have always been a fan of .orgs. They are highly trusted by web surfers and proper keywords for the extension are usually accompanied by a steady flow of traffic. That being the case, the continued rapid growth of the TLD comes as no surprise to me.