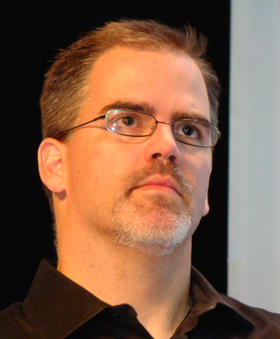 Oversee VP Mason Cole
In Oversee's response to Cahn's suit, Mason Cole, the company's Vice President of Corporate Communications wrote (in a passage I first saw Wednesday night on the Domainers Magazine website):
"Predictably, the path Monte Cahn has chosen is needlessly confrontational and provocative. Regrettably, his perceived dispute with Oversee is a result of his own falling short of expectations. This action will do nothing to further his cause and will only result in the needless expense of time and attorneys fees. It is unfortunate that Monte's actions will impact employees and clients of Moniker, the company he helped found. Monte's unfounded claims are well overstated and singularly without merit. We will vigorously defend this action and we look forward to resolving this in court at the earliest possible opportunity."
The unusually pointed nature of Cole's response came as a bit of a surprise to me. I have known Mason for a number of years now and have always found him to be a very professional and even tempered person. I have never seen this tone in his corporate communications which indicates to me that, while there is naturally some animosity in just about any lawsuit, there seems to be a higher than usual level of friction between the parties in this one. I asked Cahn about Cole's response but he had no comment, noting that we will all have to wait and see how it all pans out.
Unfortunately, lawsuits like this tend to drag on for at least a couple of years and frustration with the slowly unfolding process and unresolved dispute will likely produce more divisions within the domain community. Cahn is a well liked and widely respected industry pioneer (which is why Oversee wanted him to be part of the package when they acquired Moniker), so you can expect his supporters to be very vocal in his defense, with Oversee backers on the other side of a debate that could quickly get ugly on the blogs and in forums.
| | |
| --- | --- |
| We already know what to expect in that respect because Oversee, over the past couple of years, has already been the target of a number of detractors due to widely publicized incidents involving shill bidding by a SnapNames executive (whom Oversee is now suing) and a privacy breach by a Moniker employee (who is no longer with the company). The lawsuit gives Oversee's opponents more ammunition to fire against them. | |
Still, while people will have their say on both sides of the issue, in the end it will be up to the court to decide who is in the wrong in this particular instance - that is if the suit goes that far - and that is a big if. While both sides feel they are in the right and will ultimately prevail, the seemingly endless cost and aggravation of being involved in a lawsuit frequently wear down both sides, leading to a settlement before the court rules (as happened last year when the long, drawn out case between DomainTools founder Jay Westerdal and the company that bought DomainTools, Thought Convergence, was settled). If I had to make a prediction that is what I would guess will happen here.
A couple of other notes today regarding domain conferences. The DomainConvergence conference that was scheduled to run next week (May 12-13) in Montreal has been cancelled by organizer Frank Michlick due to a lack of registrations. Michlick said, "All paid registration fees will be refunded and sponsors will be compensated"

Meanwhile, Daniel Dryzek, who stages Europe's MeetDomainers conference tells us the date and location for the 2011 event have now been set. This 5th edition of the event will be held in Warsaw, Poland on Friday, October 14, 2011 at the Polonia Palace Hotel. The date falls two days before the 2011 T.R.A.F.F.I.C. connference will be held in the U.S. on Ft. Lauderdale Beach.