written blog at TeenDomainer.com where he has been recounting his adventures as one of the industry's youngest entrepreneurs. From his writing I was expecting to meet a personable, smart young man who is going places and that is exactly what I got.
I envied Brian for getting such an early start in a business that still offers some of the greatest opportunities you will find anywhere in the business world. I would love to have gotten started in domaining when I was his age - the problem is there was no such thing at the time! Brian is lucky this business exists now and he is taking full advantage of it. The high school senior's experience has already paid off for him in a big way. He just won a $10,000 college scholarship in GoDaddy.com's .ME scholarship competition.
In a post about the win on his blog today Brian said, "The essay was on how the internet and social media has had an impact on your life and growing up as a high schooler. I wrote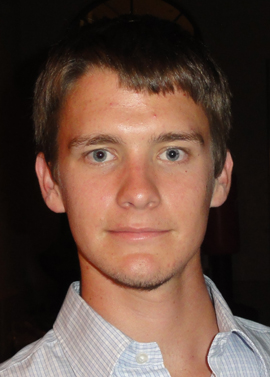 Brian Diener
Won $10,000 college scholarship
in GoDaddy,com essay contest.
about my experience in the domain industry and how I see domain names. All of the hours I have spent learning about domaining have finally paid off in my parents eyes!"
The $10,000 will come in handy for Brian when he enrolls next fall at Emory University, a top notch (and expensive) private college in Atlanta. He had already won another smaller scholarship ($1,000) for his domain business activity in the National Federation of Independent Business Young Entrepreneur Awards competition. As I said, this young man, whose last day of high school was today, is obviously going places and at the rate he is going, it is not going to take him long to get there!