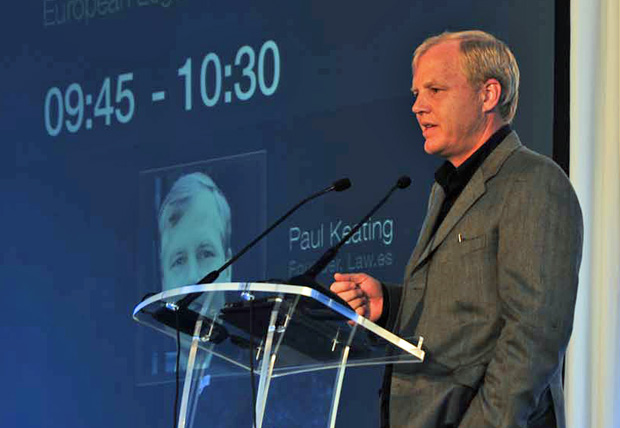 Attorney Paul Keating was the featured speaker in the opening session
at DOMAINfest Europe 2011 in Barcelona, Spain on Wednesday, June 8.
Next up was Richard Baxter, CEO of SEOgadget.co.uk, who described the impact of Google's recent Panda algorithm changes. Baxter also explained in detail how certain basic and advanced SEO best practices could dramatically help publishers achieve better rankings in light of those recent algorithm changes.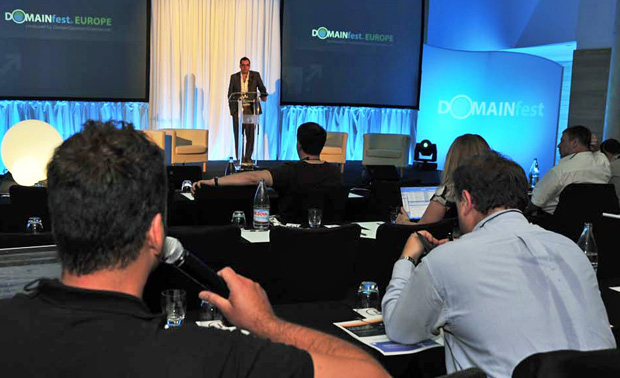 The DOMAINfest Europe audience receiving advice from SEO expert Richard Baxter
The final morning session Wednesday was also one of DOMAINfest Europe's main events - the keynote speech from Dr. Harry Brignull, a User Experience Designer and Cognitive Scientist who curates DarkPatterns.org, a site dedicated to understanding deceptive user interfaces with the aim of stamping them out and improving the web for everyone.

Dr. Brignull got a chuckle out of the audience during his introductory remarks when he theorized that Domainers might be too clever for their own good when it comes to user experience design. He said that he understands the strong desire for clicks and conversions, but warned against using tricks and misdirection. He showed several examples of well known brands that have paid the price in bad social media PR and decreased customer loyalty as a result of using so-called "dark patterns" in user experience design.

Keynote speaker Dr. Harry Brignull
After a lunch break attendees returned to the conference hall for two afternoon panel discussions. The first was a TLD Update: Growth Trends and Investment Bets moderated by Lisa Box and the second a session devoted to Mobile, Social and Affiliate Revenue Strategies moderated by Joerg Schnermann.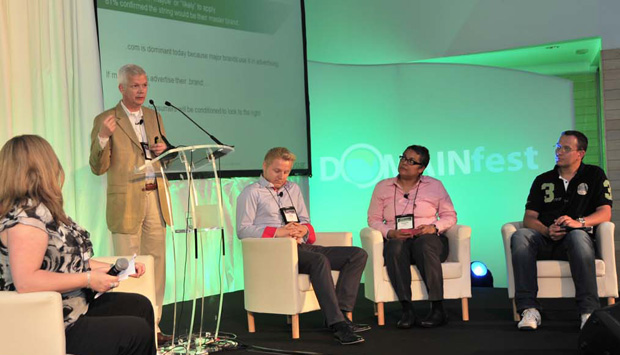 Neustar's Ken Hansen speaking during the TLD Update session Wednesday, June 8, 2011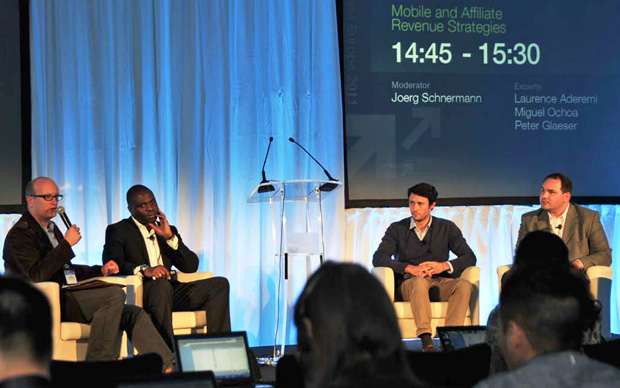 Moderator Joerg Schnermann (far left) guiding a discussion on Mobile, Social
and Affiliate Revenue Strategies Wednesday afternoon (June 8).
Oversee's Aaron Kvitek said, "Attendees could be seen taking notes throughout the Wednesday morning presentations as well as during the afternoon panel discussions. This is always a good sign that speakers and panelists were providing helpful tips and advice. PowerPoint files and videos of all presentations will be available by the end of June on the DOMAINfest.com website.
"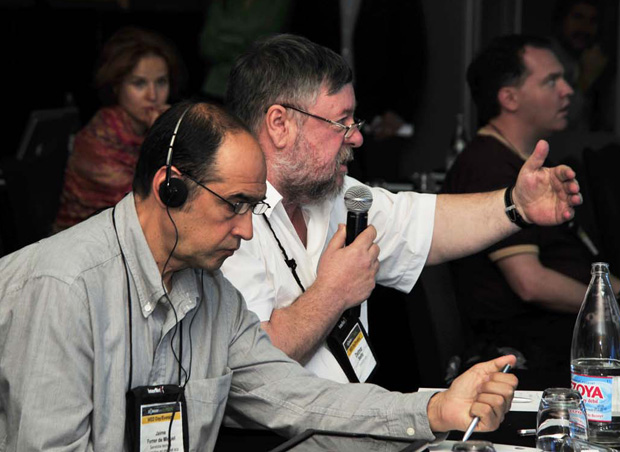 Attendees stayed busy taking notes and asking questions during business sessions.
A live Moniker/SnapNames domain auction had been scheduled to close the Wednesday business schedule but technical difficulties forced organizers to scrap the live event and convert it into a week-long premium online auction that closes tomorrow (Wednesday, June 15) at 3:15pm U.S. Eastern time. An extended online auction will follow and run until 3:15pm (again U.S. Eastern time) on June 22.
On Wednesday night attendees were treated to a networking dinner party that left them well fueled for the full day of networking and relationship-building excursions that closed the conference Thursday (June 9, 2011), along with a farewell dinner that night.

The dinner parties introduced attendees to authentic local cuisine. Kvitek said,
"A wide range of Spanish tapas (small appetizers) were offered, giving everyone a chance to taste gourmet bite-sized creations that can't be found anywhere outside of Spain. Excellent local Catalonian wines and cavas (sparkling wine) were also prominently featured."

Good food, wine and networking helped make
DOMAINfest Europe 2011 a memorable event.
Networking and relationship-building activities are always a big part of DOMAINfest events and the Barcelona event continued the tradition. On Thursday attendees made their choices from an attractive list of excursion options and headed out to explore Barcelona. "It was a great way for attendees to form relationships around common interests other than domain names and PPC advertising trends," Kvitek said.
He noted that the most popular morning excursion ended up being the "backstage tour" of 4-time European Cup winner FC Barcelona's soccer stadium Camp Nou. In the afternoon, the Tapas Bar Crawl was just slightly more popular than the Montserrat excursion and the Old Town walking tour.
If you would like information on upcoming DOMAINfest events, visit DOMAINfest.com for the latest updates on their show calendar.