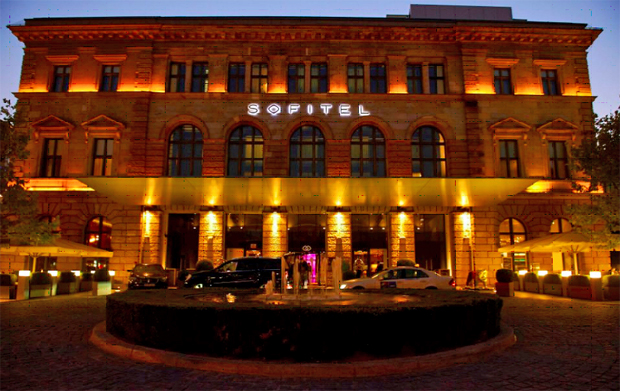 Munich's Hotel Sofitel Munich Bayerpost hosted Domainerwiesn September 27-29, 2011
Michael Berkens of TheDomains.com was among those who were in Munich. While he was there Michael mentioned to lead organizer Stefan Wiegard that I would love to get some photos and highlights from the event. Stefan came through in a big way allowing me to share the Domainerwiesn experience with you.
When attendees began arriving Tuesday morning, Sept. 27, they were outfitted in traditional Bavarian clothing (dirndl for the girls and lederhosen for the boys) and gathered at the hotel for an opening round of networking and catching up on industry gossip. In the afternoon, the entire group departed for their first visit to Theresienwiese where Crown Prince Ludwig I married Princess Therese of Saxe-Hidlburghausen in 1810 – a wedding that is commemorated every year with Oktoberfest.
The party then got started at Schützenfesthalle, a tent located directly underneath the Bavaria statue that seats more than 5,300 people, where guests enjoyed traditional Bavarian dishes and world-famous Löwenbräu beer. The tent even features its own private shooting range! With all of the beer being consumed I'm not sure how good an idea that is but no one seemed to mind.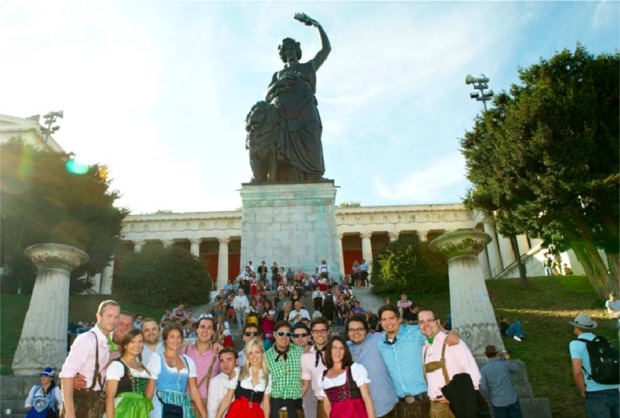 Above: Domainerwiesn attendees under the Bavaria statue.
Below: View of the Oktoberfest grounds with the Schützenfesthalle on the left.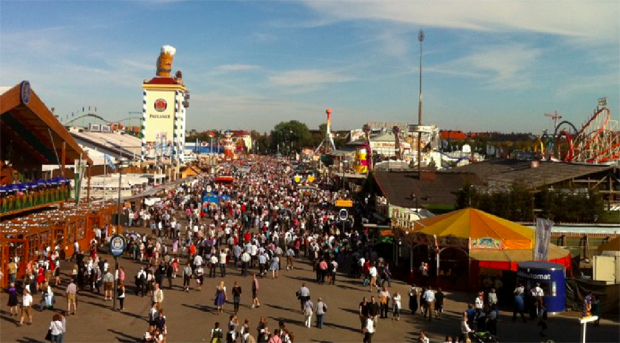 After seven hours at Schützenfesthalle the action moved to Munich's famous P1 Club where the group was greeted by a 9-liter bottle of Salmanazar Champagne to end the first day in style!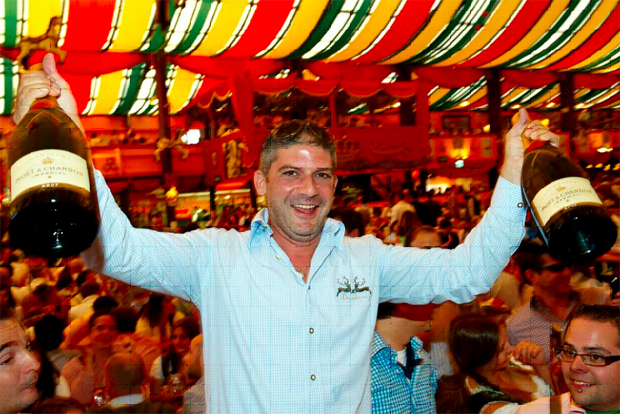 Hakan Ali from InternetX.com decided the best way to wash down beer is with champagne!
On Wednesday morning (Sept. 28) it was back to business with attendees gathering at Hotel Bayrischer Hof's Blue Spa to network one-on-one in a relaxed setting that also provided an opportunity to recover from the night before. In between meetings attendees could get various spa treatments, take a swim, enjoy sunny Munich from one of the best rooftops in town and eat some healthier food than the heavy Bavarian dishes that went so well with beer the day before.
Wednesday evening at 7:30 attendees met at the highly rated Restaurant 181 where they were were joined by industry veterans Michael and Judi Berkens and Michael's partner in RightOfTheDot.com, Monte Cahn, who were in town for a New gTLD Conference. The restaurant, which sits atop Munich's Olympic Tower, provided a birds eye view of the Oktoberfest grounds that illuminated the night sky.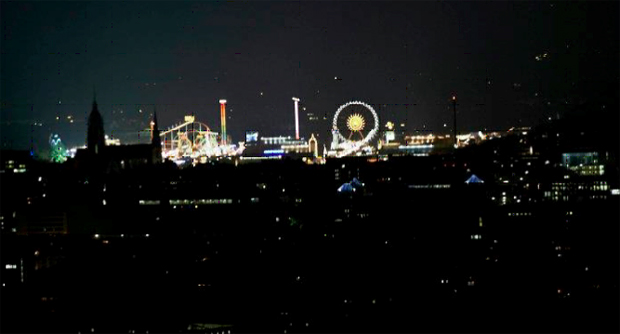 View of Oktoberfest from Restuarant 181 on top of Munich's Olympic tower.
Another highlight of the night at Restaurant 181 was an appearance by Melissa Payne who gave attendees an update on the great work being done by the Water School to provide clean drinking water in those parts of the world where it is needed most.

After hearing Melissa's inspiring account of Water School projects and enjoying a great dinner, along with the best possible view of Munich, Domainwerwiesn guests headed back to the Sofitel Munich Bayerpost Hotel to help Michael Berkens celebrate his birthday as soon as it arrived shortly after midnight.

Melissa Payne from The Water School
The final day of Domainerwiesn, Thursday (Sept. 29), got started with guests boarding a double decker bus for a sightseeing tour that would give them a much closer look at Munich. The trip was made even more enjoyable by generous servings of Bavarian beer and pork knuckles (I'm going to have to take their word for it on the pork knuckles)! This also turned out to be a good environment for discussing business deals.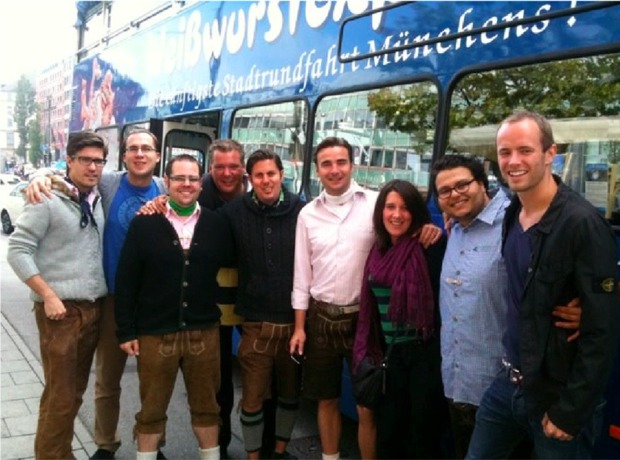 Some of the Domainerwiesn guests who got Thursday
off to a great start with a morning of sightseeing and networking.
After the tour it was time for a farewell visit to Oktoberfest. This time the fancy Hippodrom tent was the setting for an unforgettable afternoon. In this case it is probably best to let the pictures do the talking: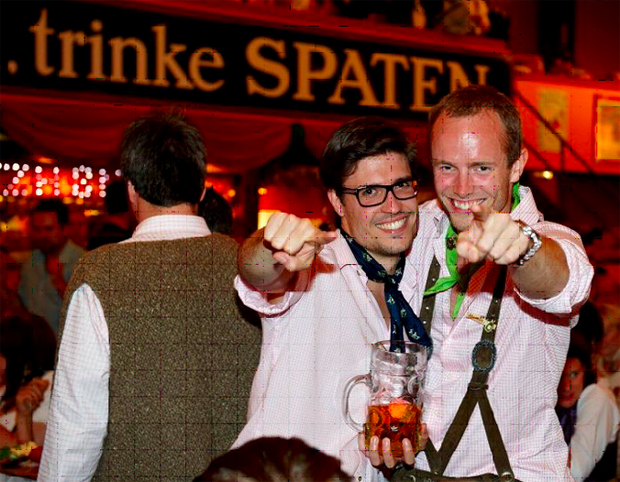 Stefan Wiegard from ParkingCrew.com and Martin Andersson from RookMedia.net
show the world that true friendship can exist between parking competitors.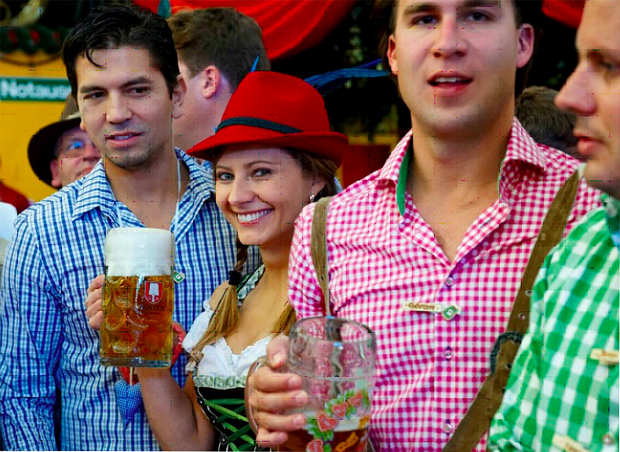 Kamila Sekiewicz from NameDrive.com (looking lovely in her red hat) says Prost! (Toast!)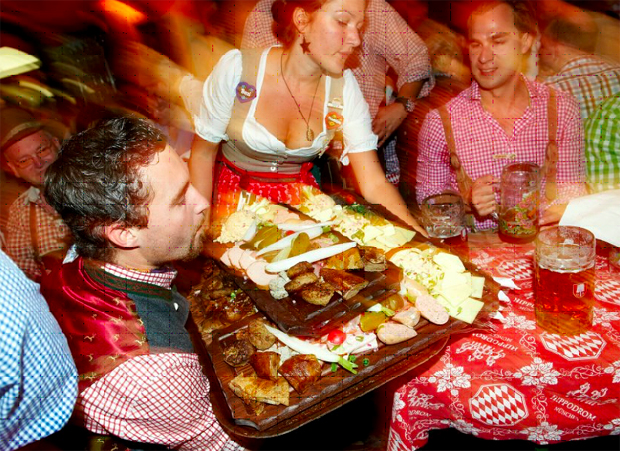 Another tray of tasty Bavarian food arrives for appreciative Domainerwiesn guests!
Stefan said, "The final day at Domainerwiesn 2011 concluded with one of those legendary champagne nights at 089 Bar that only domainers can throw (enough said)." He added that ParkingCrew.com is already looking forward to hosting another Domainerwiesn next year. After seeing these photos I bet a lot of you are already counting the days to September 2012!