Two friends and well-known figures in the domain industry, Paul Goldstone and Morgan Linton, have teamed up to make a monthly series of free educational videos available exclusively at Paul's iGoldRush.com site. Morgan will produce the videos about turning domain names into brands to increase profitability, with the first video going up today (Monday, Oct. 10, 2011).
Goldstone, iGoldRush.com's CEO said, "Our goal has always been to help visitors succeed in domaining, from buying to developing to selling. Morgan's hands-on approach to domaining fits right in with our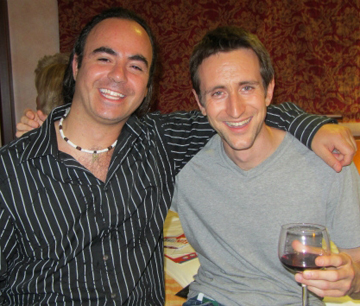 PaulGoldstone (left) & Morgan Linton
philosophy, giving iGoldrush visitors expert insight and advice to help move their top domains from parked pages to profitable online businesses."
In the new video series, Linton will share the knowledge that he has gained in developing more than 150 online brands since 2007. "Having a great domain name is one of the key elements but a successful online brand requires more than just a parked page of paid links." Linton said.
Linton and Goldstone said they finalized the partnership while on DNCruise last month, in between swimming with stingrays and jet skiing with legendary domain investor

Frank Schilling. Linton said, "Paul and I share a passion for education in the domain industry, so I couldn't think of a better person to partner with."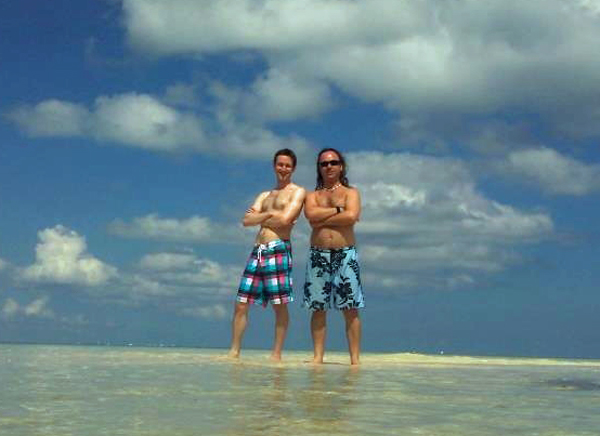 Morgan Linton (left) and Paul Goldstone
after sealing their deal on Grand Cayman (September 2011)
iGoldrush.com has been online since 1996 (originally under the ownership of Edwin Hayward) when the site began offering resources that helped many domainers get their businesses off the ground or improve those that were already flying. The new video series is the latest in a string of upgrades announced by iGoldrush over the last few months, including the addition of new domain brokers and the re-launch of their news distribution service featuring more news and authors and an auto-scrolling feed.