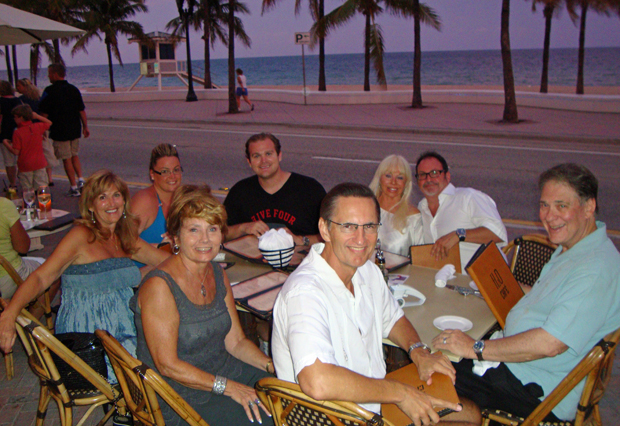 Dinner at H2O on Fort Lauderdale Beach Friday night (Oct. 14, 2011) with
(clockwise from left to right): Barbara Neu, Kimberly Ann, Ray Neu,
Judi Berkens, Michael Berkens, Howard Neu, Ron Jackson and Diana Jackson.
Shortly after the photo above was taken, we were delighted to have Dr. Chris Hartnett and his wife, Dr. Linda Hartnett, who had just arrived at the hotel, walk over to join us for dinner. Chris is a T.R.A.F.F.I.C. veteran but this will be Linda's first time at the event and we are looking forward to sharing the experience with her.

After dinner Judi and Michael Berkens invited everyone up to their penthouse suite at the Ritz for a champagne toast. Rick and Alina Schwartz and the ParkLogic.com team headed by Michael Gilmour also joined us there to help cap off a perfect evening.

Drs. Chris and Linda Hartnett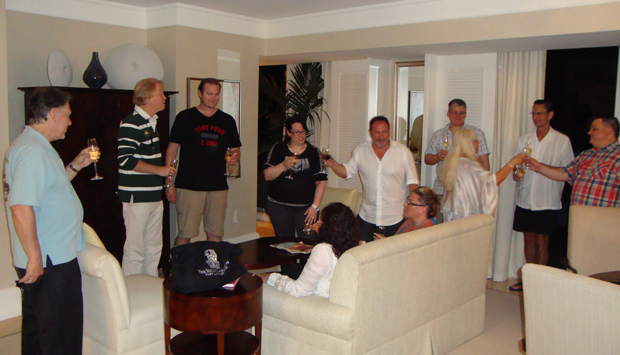 Michael and Judi Berkens welcome their guests after dinner Friday night (Oct. 14, 2011)
More early arrivals reached the Ritz on Saturday (Oct. 15) when networking on cabana row got into full swing. Various companies rented the oceanfront cabanas to provide a comfortable meeting place for their guests.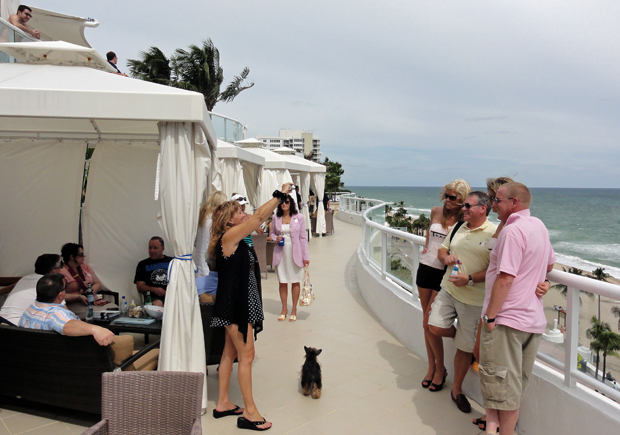 Our favorite photographer, Barbara Neu, snaps a picture on cabana row
at the Ritz Carlton Saturday, October 15, 2011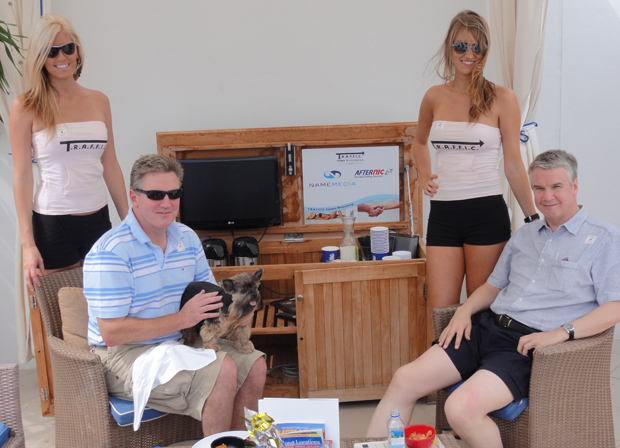 At the NameMedia.com cabana Bob Mountain (seated at left) with two special
visitors; Michael and Judi Berkens's Yorkie Bandit (on Bob's lap) and Ian Andrew
of DotComAgency.com. Standing with them are two of the many beautiful
T.R.A.F.F.I.C. models serving as hostesses this week.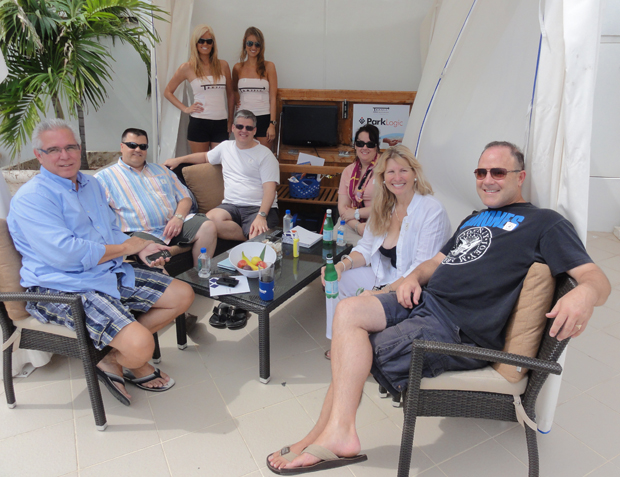 At the ParkLogic.com cabana Saturday we found (seated left to right): Scott Smith, Laci
Nagy, Michadl Gilmour, Catherine Harry, Peggy Ploss and Brian Wick enjoying the day.
From their vantage point on cabana row, guests also got a perfect view of world champion speedboat racer Mike Seebold and his team making some test runs in the Atlantic Saturday afternoon aboard the Miss .XXX boat that is sponsored by the ICM Registry (operators of the new .xxx TLD and also the lead sponsor of this week's T.R.A.F.F.I.C. conference). The team will be competing in next month's World Championships in Key West.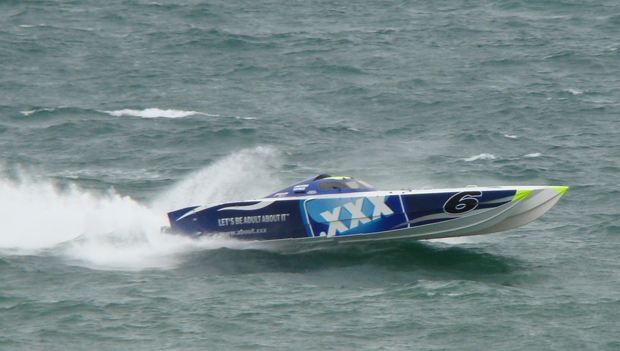 The Miss .XXX speedboat making a pass in front of the Ritz Carlton Saturday afternoon (Oct. 15).
The cabanas stayed busy until well past 6pm Saturday and with the vast majority of T.R.A.F.F.I.C. attendees arriving today (Sunday, Oct. 16), they will be a beehive of activity throughout the day. The show's first big event, Sedo's Welcoming Cocktal Reception, gets underway at 6pm. They have been planning to hold the reception on the Ritz's pool deck but with windy weather and some rain in the forecast today, there is a very strong chance the event will be moved indoors. Guests will still will be still be able to enjoy the gorgeous ocean view while protected from the elements if the party moves to one of the Ritz's glass-walled halls overlooking the Atlantic.
The first full day of business gets underway tomorrow morning (Monday, Oct. 17) and I'll have a post midway through the day then to fill you on the what has transpired beween now and then. A sell out crowd will be here by the end of the day for 2011's only T.R.A.F.F.I.C. conference.