I'm back home after a wonderful week on Fort Lauderdale Beach for the 2011 T.R.A.F.F.I.C. conference that closed at the Ritz Carlton Hotel Wednesday morning (Oct. 19). In my last

Auctioneer Wayne Wheat conducting T.R.A.F.F.I.C.'s live domain auction.
(Tuesday, October 18, 2011)

post Tuesday afternoon, the show had entered its final 24 hours with the live domain auction underway. After making a number of changes in the traditional auction process, T.R.A.F.F.I.C. co-founders Rick Schwartz and Howard Neu entered the sale with high hopes but unfortunately the final sales tally was disappointing (Approximately $284,000 with some below reserve sales still subject to seller approval).

They plan to make additional changes for the next event in a continuing effort to find a formula that will revive a live auction business that has been in a slump at all of the conferences for several years now. Obviously, the bad general economy has a lot to do with that but Schwartz and Neu think it is possible to reverse the decline by creating a better system for selecting and selling domains.

They certainly drew a substantial crowd for

the auction. I took the photo below while standing in the middle of the auction hall. There were as many, or more, people behind me as you see in the foreground. Some commentators on blogs who only saw an internet feed that showed the auctioneer and the first few rows of the audience erroneously wrote that no one was there (I've never really understood why people who were not even at an event feel compelled to tell people what happened there but that's another story).

At the auctions few want to sit in front because they don't want competing bidders behind them to see who they are and what they are bidding on. Auctioneer Wayne Wheat was having a hard time seeing the bidders all of the way at the back of the hall so he asked some to move to the front, but none accepted the invitation for the reasons I stated.

T.R.A.F.F.I.C. attendees following Tuesday's live domain auction
(this view is from the middle of the crowd).
The auction was followed by the show's final business session, a Meeting of the Chiefs session that featured eight company leaders who provided valuable advice on running a domain business, as well as commentary on a wide range of industry issues.
A Meeting of the Chiefs closed the business portion of T.R.A.F.F.I.C. 2011
late Tuesday afternoon (Oct. 18). The dais featured (left to right): John Ferber,
Michael Berkens, Adam Dicker, Michael Gilmour, moderator Howard Neu (standing),
Ari Goldberger, Larry Fischer, Dr. Chris Hartnett and Scott Richter.
The final evening at Fort Lauderdale Beach began at 8pm with a gathering for coffee and dessert. This was scheduled to run only an hour but everyone was so engaged in their conversations it ran until 10pm.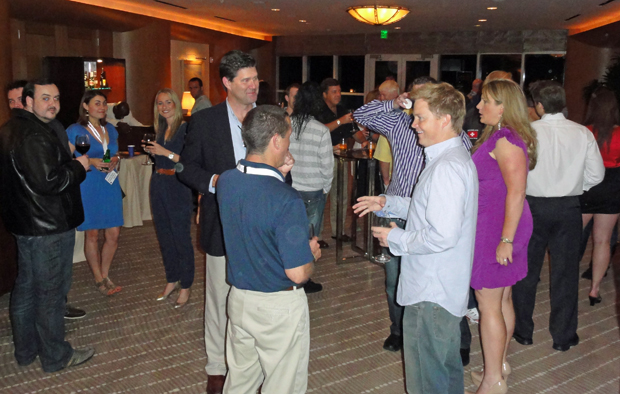 Guests gather for coffee & dessert at the Ritz Carlton Tuesday night.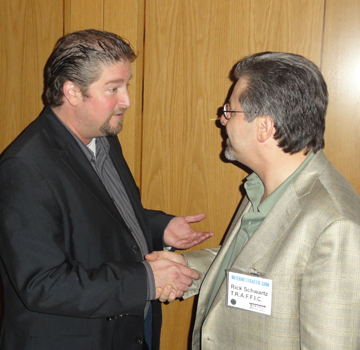 Jothan Frakes (left) and Rick Schwartz breaking
the ice Tuesday night. Is what appears to be a
budding friendship between these two former rivals
related to a possible return of the T.R.A.F.F.I.C.
conference to Las Vegas next year?
One of the more interesting things I saw during the dessert hour was Rick Schwartz and Jothan Frakes off in a corner having what appeared to be a very warm conversation. That was surprising because relations between the two have been chilly for several years. Jothan was the executive director of the first two Domain Roundtable shows (the first conference to compete with T.R.A.F.F.I.C.) and later played a key role in organizing Oversee's first DOMAINfest conferences. So, he and Rick spent years going head to head.
Neither had anything specific to announce after their chat, but I can't help but think the talk may lead to T.R.A.F.F.I.C. going back to Las Vegas in 2012, even though Schwartz has said he only wanted to do one show a year from now on.
The workload is too heavy and he doesn't need the money. Still, many (including me) have urged him to consider returning to the two-a-year, East/West combination that was so popular in T.R.A.F.F.I.C.'s early years. Schwartz wouldn't budge, but at the end of the auction earlier in the day, he asked for a show of hands from the crowd - how many wanted to see one show a year and how many wanted to see two, with Las Vegas back in the mix? An overwhelming majority put up their hands in favor of the two-show option.
A couple of hours later, I see Schwartz and Frakes shaking hands and I have to think that Frakes's deep experience in putting conferences together could help T.R.A.F.F.I.C. kill two birds with one stone - give the show's fans the Las Vegas show they want and still take a lot of the second show load off of Schwartz's shoulders by letting Jothan carry some of that weight. It may just be speculation, but I don't think they spent an hour talking about who is going to win the World Series (even though Schwartz is a big baseball fan).
After the dessert hour (that turned into two hours), many in the crowd jumped on the elevators and headed to a party that Ari Goldberger and Larry Fischer (two of the most successful domain investors of all time) hosted in their suite near the top of the Ritz Carlton.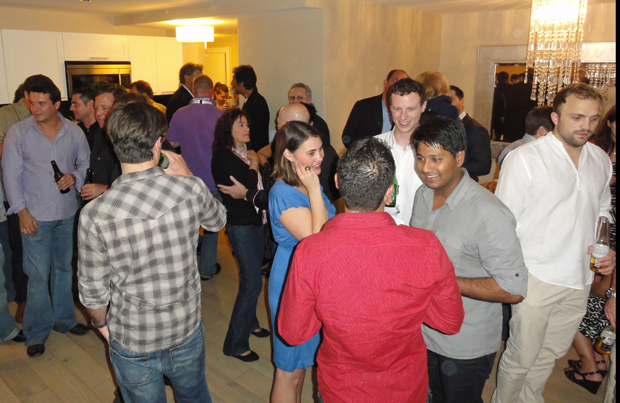 Above: Some of the first to arrive at a party held in Ari Goldberger & Larry Fischer's suite Tuesday night (the soiree would later grow so big that hotel staff would move it from the suite to a larger location away from other guest rooms. The Ritz always aims to please and I'm sure their solution kept both Ari, Larry and their guests happy as well as the neighbors on their floor!

At right: two of the domain industry's most respected corporate leaders, NameMedia CEO Kelly Conlin (center) and the company's Senior VP, Jason Miner, chat with Barbara Neu and Judi Berkens at at the Goldberger/Fischer party.
The next morning (Wednesday, Oct. 19) it was time to say goodbye to friends and fellow guests, but not before sharing a sumptuous Farewell Breakfast with them. This has been a T.R.A.F.F.I.C. tradition and it has always been a great way to wind up the conference - everyone loves going home with fond memories and a full stomach!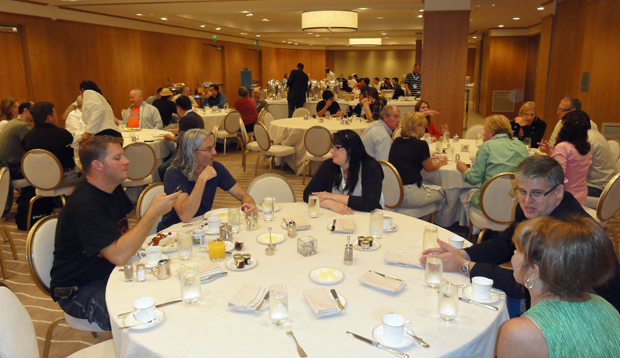 A scene from T.R.A.F.F.I.C.'s Farewell Breakfast Wednesday morning, Oct. 19, 2011. The
two men in the foreground at left are Chris Leggatt and Danny Pryor, who are integral parts of the T.R.A.F.F.I.C. team. They handle the conference's audio, video and technical details.
Shortly after noon we were in our car and on the way back to Tampa with the 22nd T.R.A.F.F.I.C. show in the books. Many say it was the most productive one for them to date and that is saying something.
While I have been filing daily reports from Fort Lauderdale Beach since last week, the show schedule is so hectic I had to leave a lot of details out. As always, I will now take a few days to assemble everything into a single comprehensive show review that we will publish soon. Attendees are making industry history and I want to continue making it all part of an easily accessible permanent record so that as we continue to move forward we can always look back (and learn) from where we have been.