DONA.com Becomes First Registrar to Offer UDRP Insurance & ICA Support Through Profit Sharing
Editor's Note: Since this article was posted, DONA.com has withdrawn its "UDRP insurance" offering. Mr. Carrillo detailed the reasons why in this post on his blog.
Francois Carrillo could be regarded as the Henry Ford of the domain industry but, instead of cars, a steady stream of industry products and services flow from Carrillo's non stop assembly line. His news aggregation site, Domaining.com, has been his most popular model and also provides a high profile launch pad for his frequent new offerings, the latest of which - DONA.com - brings a new value proposition to the domain registration game.
While DONA.com (an eNom reseller) doesn't offer the cheapest registration prices, they are competitively priced (especially if you do not have a bulk registration deal) and they come with a couple of extras that could be worth far more to customers than the small premium above what deep discount registrars charge (at the time of this post, DONA.com was charging $11.15 for .com, .net or .org regstrations).
The new wrinkle that Carrillo is introducing is UDRP Insurance with each registration. If someone tries to take your domain away through a UDRP proceeding, DONA.com will pay your legal defense fee if you win the case. Carrillo wants to protect registrants who are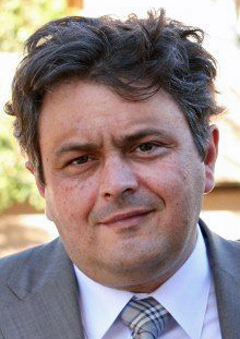 Dona.com creator Francois Carrillo
unjustly targeted by parties trying to take domains away from their rightful owners without paying for them. While the requirement to win the decision will not insure against biased UDRP arbitrators it will give responsible registrants who avoid infringing names a good deal more peace of mind than they have now when "winning" the case can still mean the loss of thousands of dollars in attorney fees.
Before you undertake that expense, Carrillo said DONA.com will arrange free legal advice on the chances of winning your dispute, as well as a list of attorneys offering special rates to DONA.com members.
In another effort to support domain owner's rights, Carrillo is also promising that 30% of the profits generated by DONA.com will be donated to the industry's non-profit advocate, the Internet Commerce Association.

The ICA employs an experienced Washington, D.C. based Legal Counsel, Phil Corwin, who has tirelessly represented the interests of domain investors at ICANN meetings and in the halls of Congress. Registrant rights are continually under attack and despite being out-spent and out-manned by over-reaching trademark interests Corwin and the ICA have helped fend off many proposed changes to policy and law that would have had an extremely negative impact on domain owners.

Carrillo said, "We really need to have our voice heard to influence ICANN and governments to change rules and better defend our rights. It's critical and urgent that we unite and have a strong association to defend us. Without big changes things can only get worse, much worse."