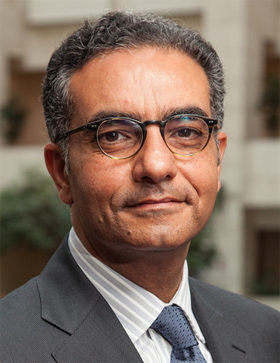 New iCANN CEO Fadi Chehadé
Photo courtesy of IcannPhotos
ICANN today named Fadi Chehadé, as the new CEO of the domain name system's oversight body. Chehadé will replace Rod Beckstrom who is leaving the post July 1. The 50-year-old Chehadé who is a citizen of three countries, Lebanon, Egypt and the United States, will take over on or before October 1, 2012 with current ICANN Chief Operating Officer Akram Atallah handling CEO duties until Chehadé arrives. The announcement (.pdf file) came in Prague, Czechoslavakia where ICANN's 44th international meeting will get underway Sunday.
Chehadé was born in Beirut, Lebanon, to Egyptian parents and left the then war-torn country in 1980 at the age of 18. He speaks fluent Arabic, English, French and Italian. He comes to ICANN after serving as CEO at Vocado LLC, a U.S. firm that provides next-generation cloud-based administrative software for educational institutions.
Prior to Vocado, Chehadé served as the General Manager of IBM's Global Technology Services in the Middle East and North Africa. Based in Dubai, he led a team across an emerging region experiencing high growth. He also built and managed a new global business for IBM, providing managed services to large clients in telecommunications, aerospace and retail to improve the accuracy, depth and timeliness of business information visibility across demand and supply chains.
In 1998, as the founder and CEO of RosettaNet, Chehadé rallied business and government leaders across the globe to build consensus on e-Business process standards by capitalizing on the growing Internet connectivity between trading partners in the computer and telecommunications sectors. The firm's transactions continue to span the industrial world and exceed $100 billion per year.
Dr. Stephen Crocker, Chair of the ICANN Board of Directors said, "Fadi has an amazing track record of success and the obvious leadership qualities to help carry ICANN into the next stage of its evolution. His international background and multi-linguistic skills will help to make ICANN an ever more globally oriented organization. It's hard to imagine how we could have found anyone better suited for the top position."

Chehadé said, "I have spent most of my professional career building consensus among various stakeholders from around the world. I am naturally humbled to now be able to lead an

organization that defines itself by an international multi-stakeholder model and one that is the very core of the security and stability of the Internet."
Chehadé is a graduate of Stanford University, where he earned a master's degree in Engineering Management. He earlier earned a bachelor's degree from Polytechnic University in New York, where he graduated Summa Cum Laude. Fadi Chehadé currently lives in Los Angeles where ICANN is headquartered.