Nico Zeifang, the CEO at Munich, Germany based Team Internet AG is always upbeat, but he was more excited than usual when he contacted me today to rave about a new addition to the team at ParkingCrew.com (Team Internet's domain monetization unit).
Zeifang wanted to let me know that Axel Kaltz, an industry veteran with more than eight years in the domain space (including various positions at Sedo including Director of Sales Operations - Europe/Asia-Pacific) had come on board as Managing Director of ParkingCrew. Axel will be responsible for driving and maximizing revenue for ParkingCrew publishers.
Kaltz, was keyed up over his new assignment too. He said, "Having been involved mainly on the sales side of the business in the past years, I am very excited to join the young and refreshing team at ParkingCrew and be a part of their vision of being the most innovative domain monetization platform out there."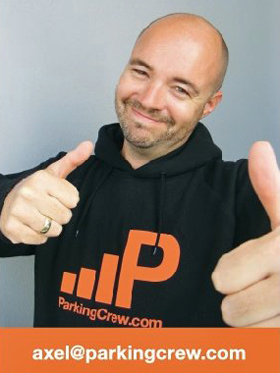 Axel Kaltz - Team Internet
Managing Director of ParkingCrew
Zeifang added, "We have exciting plans for ParkingCrew that will be rolled out over the coming months and Axel will be instrumental in making them happen. We are really excited to have him with us." Is it just me, or are you getting the impression that Nico is excited too? :-)
I can say that I have been hearing a lot of positive things about the company over the past year and had a chance to be around several of the ParkingCrew team leaders at the Domaining Europe conference in Valencia, Spain last April. As Axel noted, they are a young, high energy crew that you can't help being impressed with. It will be worth watching them over the next few months to see what they have up their sleeves.