Expect to see a much different website if you log in at Afternic.com around this time next week. The popular aftermarket domain sales venue sent a letter to its members today, giving them a heads up on the impending makeover.
The letter said, "Next week we will be launching the newly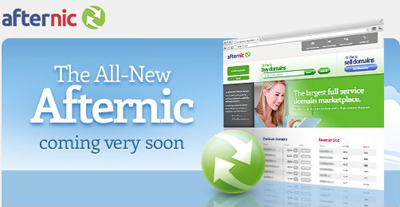 redesigned Afternic.com, saturated with novel features and upgrades to make selling your domains even easier than before. The new Afternic is a clean, simplified, improved user experience for both buyers and sellers."
The letter went on to provided some specifics, noting "The Member Center has been upgraded to include personalized Member Portfolio Pages to feature domains from your portfolio, Domain Profile Pages for all active domains, Parking Management allowing editing and viewing of all parking data, and a centralized Offer Area to allow easy management of offers and price requests. In addition to these upgrades, the new Afternic features a simplified escrow process, and an improved shopping cart experience with tiered service pricing."
If you are an Afternic member, you won't have to do anything to take advantage of the new features. The letter said, "All your information and domains will be transferred seamlessly to the new Afternic, with nothing required of you. Next week we will be sending out another email with specific information on what to expect when you log on to the new site, and more detail on the new site features."
Image from Bigstock

One other note today - that being kudos to Raymond Hackney for profiling nearly two dozen domain industry women in a five-part series that concluded today at Ray's HybridDomainer.com blog. Back in 2005 we wrote a Cover Story about the need for more women in a business that had everything going for it except diversity. We were able to feature three great trail blazing ladies in Donny Mahony, Marcia Lynn Walker and Michele Miller, but few others were in the domain game then. Thankfully, as Ray's series clearly illustrates, things have changed for the better with dozens of smart, exceptionally talented women occupying key positions throughout the industry. Our field is much stronger and more professional as a result.

If you missed Ray's series here are the links to HybridDomainer.com that will take you to each installment: