FashionMetric.com that is drawing investment attention from some very heavy hitters (you will hear more about that in the near future).
If you were at last year's T.R.A.F.F.I.C. Conference at Fort Lauderdale Beach, you will recall that a freak once in a lifetime rainstorm pounded the show venue through its run. The weaher Friday was beautiful and this time around the forecast calls for more of the same throughout the week. The welcome return to Florida's normal weather pattern at this time of year will give show goers a chance to really appreciate the spectacular oceanfront setting.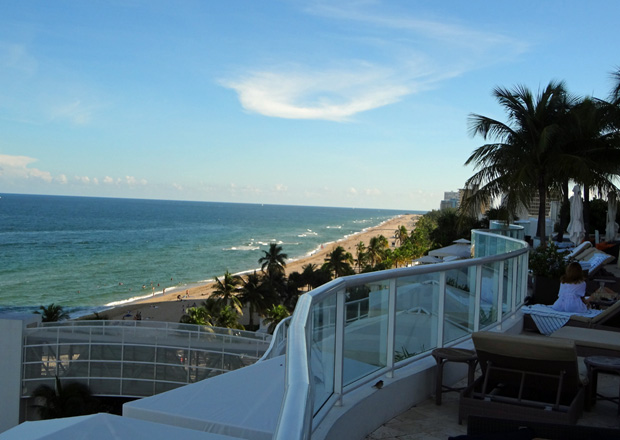 Friday's ocean view from the 7th foor pool deck at the Ritz Carlton Hotel on Fort Lauderdale
Beach where the 2012 T.R.A.F.F.I.C. conference will run through next Wednesday (Oct. 10).
Another early arriver was DNForum.com owner Adam Dicker (who was inducted into the T.R.A.F.F.I.C Domain Hall of Fame last year). In a very gracious gesture Adam invited about two dozen people who got into town Friday to dinner at Shula's On the Beach last night a spot that is part of the highly regarded chain of steakhouses started by legendary Miami Dolphins head coach Don Shula). It's a good thing Don wasn't there to see the surprise gift Barbara Neu had for Adam - a necktie representing the rival Dallas Cowboys, who happen to be Adam's favorite team.

It made for a especially memorable first night in Fort Lauderdale surrounded by domain industry friends, great food and even better people.

DNForum.com owner & Dallas Cowboys fan Adam Dicker
gets a surprise gift from Barbara Neu - a Cowboys necktie!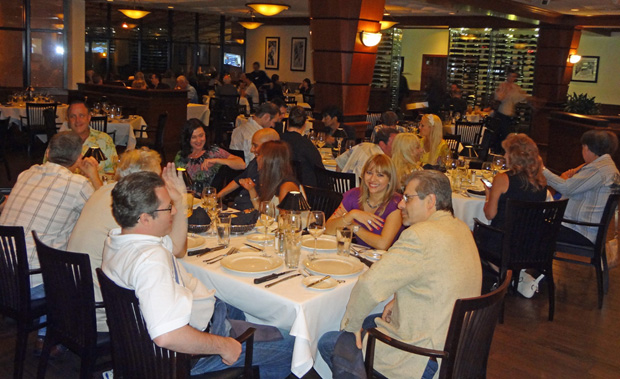 Above: Adam Dicker (at front left) chatting with Rick & Alina Schwartz at Shulas On the
Beach Friday night. Adam took two tables full of domain investors to the popular restaurant.
Below: At our table (left to right) Howard Neu, Judi Berkens,
Michael Berkens and Barbara Neu, as always, made things interesting!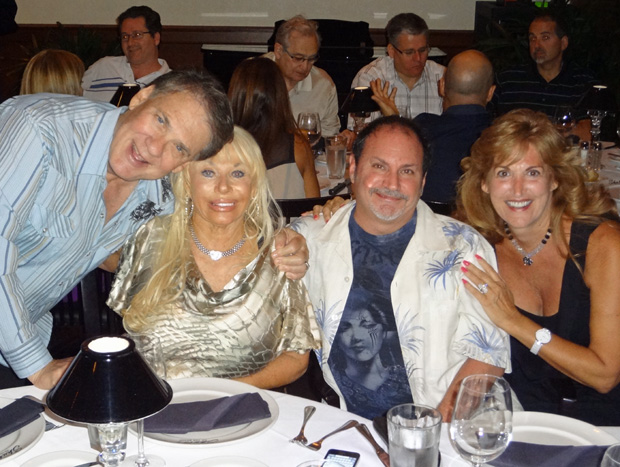 After dinner, as people were starting to head out, Barbara said "Wait a minute, let's get a group picture in front of the bar." I told here that trying to get domain investors to all go in the same direction at once is like herding cats - but she can be very persuasive and sure enough, within seconds, everyone was in place for the photo below snapped by a member of Shula's fine staff.
Can you tell these people are happy to be on Fort Lauderdale Beach for T.R.A.F.F.I.C. 2012?
Many more people will be arriving at the Ritz today, a day that will be filled with more casual networking around the cabanas and spacious pool deck. There will also be an afternoon deep sea fishing trip and those who signed up for that are eagerly anticipating their ocean adventure. I didn't see anywhere in our room to put a fish if we caught one so we are going to hang out at the pool, cabanas and on the beach in what is shaping up to be another beautiful day in paradise. I'll have photos and highliights from today's activity in a post for you Sunday morning.