Demand Media's eNom subsidiary is the second largest registrar in the world with over 13.5 million domain names on its platform. Demand Media Chairman and CEO Richard Rosenblatt said, "Name.com will provide a direct channel for us to reach consumers and small businesses as they develop and manage their online identities. This becomes even more valuable as over one thousand new domain extensions are expected to become available for registration in the years ahead." In Name.com Demand gets a well-regard registrar that has registered nearly 1.5 million domains.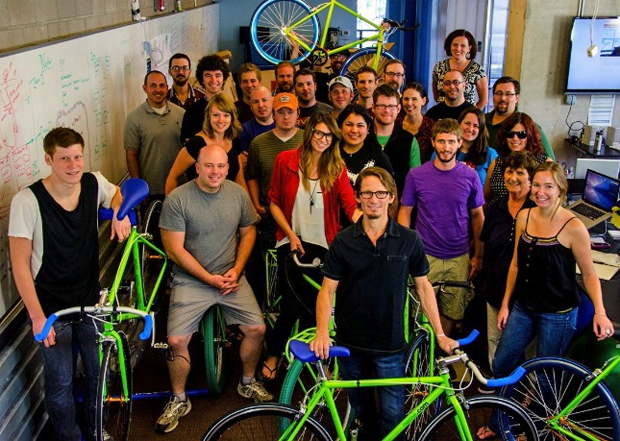 The Name.com team headed by Founder Bill Mushkin (front center in the black shirt)
at their home base in Denver, Colorado.
Taryn Naidu
Demand Media, EVP, Registrar Services

Demand Media will retain the current Name.com team and the business will report to Taryn Naidu, Demand's Executive Vice President, Registrar Services. Naidu commented on the acquisition in a post on the company's blog today, saying "we are proud to now add Name.com to the Demand Media family. We greatly admire what the team there has accomplished – building a smart company that is easy, and fun, to do business with.

The domain name industry is entering its greatest period of change and opportunity as it prepares for the launch of more than one thousand new top level domains. With that change, we recognized the opportunity to expand our ability to educate, satisfy and service a greatly expanded and global audience.

The new TLDs present an opportunity to help every prospective consumer and business

understand their options, and then, easily purchase the best new names for their passion projects and businesses. It's also an opportunity to help over a thousand new domain name registries successfully launch their TLDs and reach their target audience.

Together, Name.com and Demand Media possess the most comprehensive domain name services platform in the industry. It includes the now 15 million names under management, the most widely used domain name reseller platform, nearly 9,000 business partners, the leading domain name auction service, an interest in 133 new TLD applications and, now, an award-winning retail registrar."