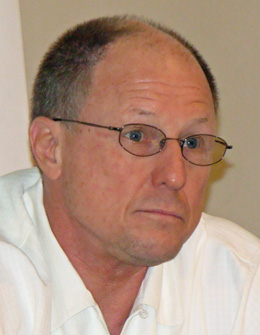 Skip Hoagland
Skip Hoagland (who was profiled in our July 2008 Cover Story) owns one of the world's best geodomain portfolios, including many well developed websites like Atlanta.com, BuenosAires.com, SouthCarolina.com and HiltonHead.com (he also owns may category defining generic sites like Fishing.com and Shooting.com).
Skip is a local media veteran who got started by publishing magazines for visitors to tourist destinations like Hilton Head Island and Myrtle Beach. Local magazines, newspapers, radio, TV and geo oriented websites like Skip's depend, of course, upon advertising dollars to stay in business.
Many of them join their local Chambers of Commerce thinking that their membership in the non-profit organizations would help boost
tourism and thus their own businesses, but for more than a year now, Hoagland has been sounding an alarm that just the opposite was happening! Hoagland showed that local chambers all over the country, many of which are supported with taxpayer money, were competing against their own members by selling ads to publications and websites the Chambers starting putting out on their own. Hoagland decided it was time to go to the mat.
He just filed a lawsuit against the Hilton Head Island-Bluffton Chamber of Commerce that operates in his South Carolina backyard, demanding detailed financial information, including invoices, contracts and checks written by the Chamber. Hoagland claims the Chamber, which receives tax money levied on accommodations by Hilton Head and Beaufort County, unfairly competes with its owns members and wastes taxpayer money by paying some employees exorbitant salaries (including the local CEO's compensation of more than $320,000) and approving lavish expenses.
Hoagland has also filed complaints with the IRS about this kind of situation going on in major cities throughout the country, claiming the are violating their non-profit charters through their current activities.

Hoagland first told me he was taking up this battle in an October 2011 letter in which he wrote, "It is not only an unfair competitive advantage with being a 501-C3 non-profit and using bed-tax monies and members dues that compete with local medias, but simply against the charter of a Chamber, which is to support and help their business

With friends like this who needs enemies?
Image from Bigstock

members prosper within the community. Chambers just seem to not be able to support themselves from member dues and additional tax monies and continue to launch for-profit side ventures to do so."
As the situation has only gotten worse since then, Hoagland has pressed the battle on all fronts (including an assault on the U.S. Chamber of Commerce), alerting media outlets across the country, demanding federal action as an IRS whistle blower and filing lawsuits against individual chambers. This kind of fight takes a lot of time and money but Hoagland insists is in it for as long as it takes and with each passing week he is building support for his efforts from other local media outlets who become aware of a situation that is hazardous to their health. You can read more about Hoagland's crusade at StopChamberAbuse.com.