Escrow.com handled the sale of a black Fender Geddy Lee Jazz Bass Guitar autographed by the Rush bassist and vocalist, Geddy Lee himself, along with fellow band mates Alex Lifeson and Neil Peart (all three of whom will be on hand when Rush is inducted into the Rock and Roll Hall of Fame in April 2013). The sale raised over $10,000 after the guitar was auctioned off through Reverb.com.
Escrow.com initially got involved in the auctioning off of the guitar after hearing about the effort from one of their staff members, General Manager of Emerging Markets Andrew Sokol, who sits on the Board of the Fender Music Foundation as the Chairman of the Grants Committee.
Escrow.com President Brandon Abbey (through whom Escrow.com also contributed to The Water School's WaterShave fundraisers when they began last year and did so again this year) said "The Fender Music Foundation is yet another organization we are passionate about. We just recently co-sponsored a golf tournament that raised $120,000 for the Semper Fi Fund and America's Fund (both of which benefit injured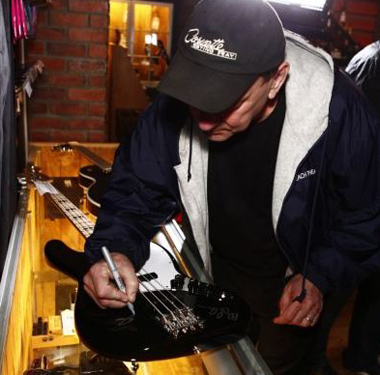 Above: Rush drummer Neil Peart autographing the guitar sold by Escrow.com.
Below: a close up of the autographed guitar that went for over $10,000.
(Photos courtesy of Reverb.com who ran the guitar auction on their site).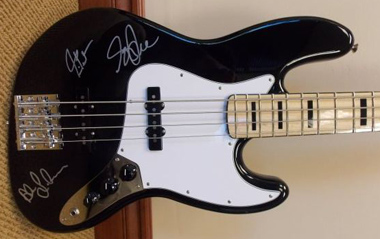 and ill members of the U.S. Armed Forces and their families) and when Andrew approached me with the idea to sell the bass to benefit the Fender Music Foundation, it simply fit right into our model of wanting to help others." (You can read more abut the sale of the guitar in this pre-sale announcement).