When I first got into the domain business over a decade ago, one of the first people I came across was Luc Lezon, a software wizard who, after initially starting out as a domain investor himself, switched his attention to creating tools that made it easier for other domain investors to find quality domain names. He is still at it today as the programmer behind Estibot,

PremiumDrops, Domain ResearchTool and a few other domain services and just a few weeks ago he rolled out his "masterpiece" - Dropping.com.

When you consider that over a quarter of a million domains get dropped and auctioned every day you can see why powerful tools are indispensable if you want to separate the wheat from tons of chaff. Over the past 10 years Lezon has devoted his life to building those tools. "My passion is in software and increasing efficiency through automation," Lezon told me. "I love creating tools that save people time and make their lives more productive."
Having used Lezon's tools in the past I was especially interested in seeing what he had come up with at Dropping.com. I got a chance to open my account and explore the new system over the weekend and it is a thing of beauty with a super clean intuitive interface that makes it a breeze to access the stunning amount of expiring domain and auction data that Dropping.com puts at your fingertips.
One thing that impressed me before I even logged in was the well crafted explanation of why dropping domains can provide outstanding value, not only to domain investors, but also end users, website owners and SEO and SEM professionals. Many points made on the Dropping.com home page (and in a more detailed account the Home Page links to) could be used in explaining why domains you have for sale are worth paying a premium price for.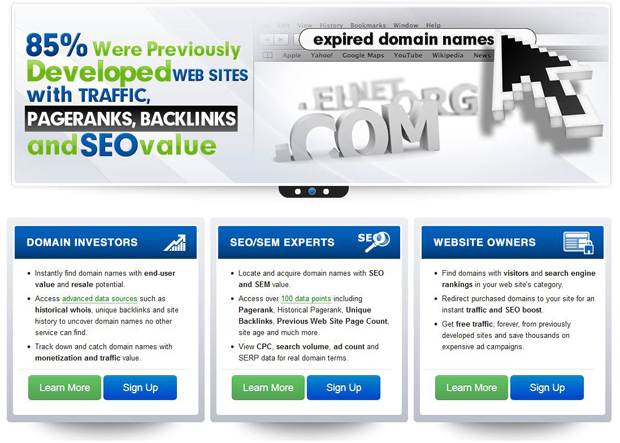 Screen shot from the Dropping.com Home Page
Once you log in, the pleasant surprises continue. The first time you access the system a pop up box will ask what kinds of domains you are looking for (for example, resale potential, parking revenue, traffic for SEO or SEM purposes, etc.) and what you do in the industry (for example, domain investor, SEO or SEM expert or website owner). With that information Dropping.com then automatically sets up filters, custom reports and data feeds to match your needs. It literally takes just a minute or two to get up and running.
Lezon said he had simplicity and easy accessibility in mind from the start. "The biggest challenge was providing access to the data without confusing or overwhelming the user," Lezon said. "Our customers include domain investors, web site owners and SEO/SEM experts, so they all have very unique needs. We have a ton of data going back close to a decade, but data has to be presented properly to be of any use."
"The presentation element is what took the longest time in Dropping.com. Figuring out what to show, how to show it, and what to leave out is extremely challenging. Making sure reports

pull up fast, and include up to date information is also a challenge, because we store various data on approximately 200 million domains. We are constantly working on ways to simplify the service without taking away from the data sets."

As soon as you access the well laid out Dashboard (through the My Account menu link) you see that Lezon accomplished his mission for Dropping.com. A box in the upper right corner of the dashboard tells you how long it will be until the next drop, along with a link to the most recent drop results, including who caught the names.

That is followed by a very interesting Daily Summary showing how many auctions/drops are ending that day, how many have resale value, how many have backlinks, how many have page rank, how many have a high CPC and how many have active bidders. When you click on the number for any of those metrics it brings up a complete list of the domains fitting that description. Clicking on a name will bring up a box that includes estimated end user value, estimated monthly traffic and estimated revenue for both parking and minisite options.

There is also a box listing the Dropping.com's top picks from among the names scheduled to fall in the next drop. They also have a graph that tracks how successful each of the top drop catchers are so you will know who gives you the best chance of landing a name you want.

Information boxes on the right side of the Dropping.com Dashboard page.
Among other things the Dashboard allows you to set up daily email alerts and watch lists as well as download entire zone files for your favorite extensions. There is also a lead generator that identifies potential end user buyers for your names, a registrant research tool that includes historical whois data and a drop estimator that tells you the day and time a name your are interested in is due to drop.
When you click the Domains link on the Menu bar you get a live feed (from auction and expiring sources you select) that brings up detailed information on a huge variety of available domains, including where they can be acquired, Estibot's estimated retail value, the current bid price and number of bids, how often the term is searched, the cost per click value, the age of the domain, Alexa ranking and more.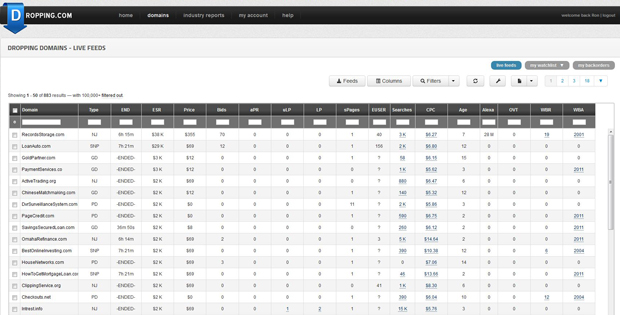 The Live Feeds screen at Dropping.com has detailed data
on all domains that meet your search criteria.
The Industry Reports Menu item gives you a breakdown of the too drop catchers, who caught domains that dropped, how many domains are being registered in a variety of popular extensions and aftermarket sales results (with graphs showing the cumulative sales volume and price).
Different people will have different needs, so Dropping.com has set up three tiers of service that allow you to pay for only what you need. The Basic service (aimed at new domain investors and website owners) is $49.95 a month. The Intermediate level (designed for part-time domain investors and beginning SEO/SEM users) is $99.95 a month and the Advanced level (for full-time domain investors and experienced SEO/SEM users) is $149.95 monthly. You can try before you buy as all three plans offer a 7-day free trial. Just use the FREE7 code when you sign up.
Dropping.com also offers its members an affiliate program so you can make money, quite possibly more than enough to pay for your own subscription, by putting the affiliate link on your own website.