One sure sign that the domain industry has come of age is the increasing level of sophistication of professional research tools available to investors, developers and intellectual property owners. Australia's Simon Johnson and his company Kikabink - already known for DomainerIncome, Domain Sales App and DotBuyer, has launched the latest salvo in the domain intelligence arms race with IP Neighborhood - and it is an impressive one indeed.

IP Neighborhood gives clients access to 18 new tools, several of which Johnson says open access to data that was previously unavailable to the general public. "This is truly a game changer," Johnson said. "Now anyone can perform due diligence on domain names and registrants, as well as protect their intellectual property."

As one example, Johnson noted, " If you are a broker, you are going to want to use our Auction Intelligence tool to target those people buying in a specific niche market. The AI tool shows you what domains and websites are being purchased, who bought them, how much they paid, who they transferred it to (if applicable) and how many domains or websites they have bought over a period of time."

Simon Johnson
Founder, IP Neighborhood
Below - a screenshot from IP Neighborhood's Auction Intelligence Tool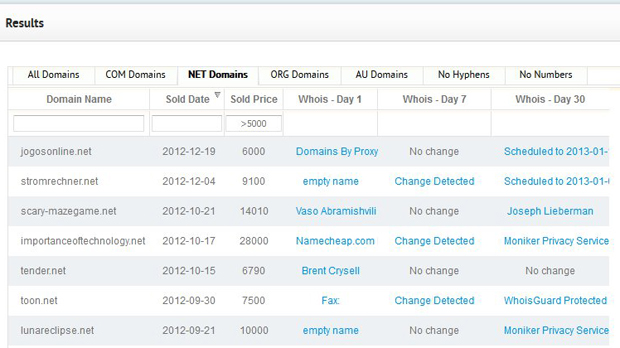 For buyers, Johnson cited the Domain Due Diligence tool as another must have. "It allows you to uncover critical search engine metrics, traffic indicators, and trust metrics all on one page. This is very extensive and will save people a lot of time. No other tool comes close to the sheer volume of information available," Johnson said.
Other useful tools for buyers in the IP Neighborhood suite include Aftermarkets & Auctions (aggregates all the major aftermarkets, auctions and drops with an additional layer of statistics, analytics and metrics from 3rd parties. These include statistics such as foreign traffic, monthly profit, page rank and page views), tools to identify Expired & Expiring domains as well as

Hundreds image from bigstock

registrations of New Domains, and a Domain Comparison tool that reveals domain names registered in one extension, but not in another).

For valuation purposes, IP Neighborhood also offers Domain Sales history (the web-based version of the popular Domain Sales iPhone app that is fully searchable and includes more than 160,000 domain and web site sales over the past decade) and Weekly Sales Report (a free tool (no login required) that displays the Top 40 domain name and website sales each week. Members can also login and see further reports, including a breakdown of TLDs and ccTLDs in real-time.
Regarding another tool, Johnson said, "If you are a lawyer and want to find domain names that are registered to a 3rd party, then you can use our Domain History tool to quickly find that out." Both attorneys and domain owners will also make sure of the Trade Mark Monitoring tool that monitors trademarks across multiple countries including the USA and Australia. The system also monitors domain name registrations, and alerts you when possible infringing names are registered, so you can take early, preventative action against cyber squatting.
Below: IP Neighborhood's Trademark Alerts screen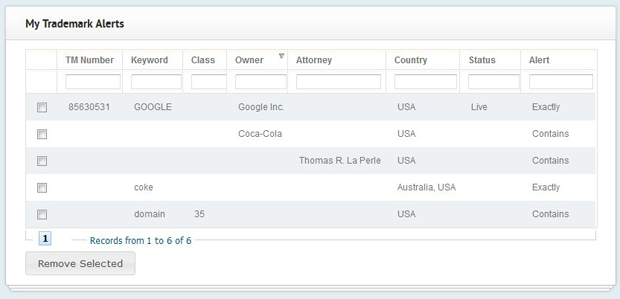 IP Neighborhood didn't forget domain hosting either. The Hosting Intelligence tool identifies web server, hosting technology and ISP information, including geographic details such as country, state and city while the IP Reputation tool checks the reputation of domain names and IP addresses for a history of sending spam and distributing malicious software, something that is particularly useful when you are allocated new (recycled) IP addresses from web hosting companies. A related tool, IP Intelligence lets you to browse through IP address ranges. For example, you can uncovers domain names and web sites hosted on a single IP address.
Other tools include Domain Name Management, Forums monitoring (that checks multiple forums in near real-time, for domain names and web sites listed for sale), an Affiliate Domain Finder and API. You can find more detailed information on all of the IP Neighborhood features here.
IP Neighborhood offer three price levels, including $4.99 for a one day pass and two monthly plans - Silver at $19.95 a month (currently the most popular) and, for insatiable users, Gold at $39.95 a month.