Most of you know Ari Goldberger of ESQwire.com as one of the domain industry's elite attorneys. Some of you also know that he is a serial entrepreneur who has an ownership interest in some of the best domain names on the web. Ari and his partners have been hard at work developing some of their top properties into high profile websites. This month alone they launched both Songs.com and MD.com (where Goldberger serves as CEO).

In fact, if you were in Miami over the past few days you may have seen Ari on the street among a bunch of guys and a camera crew wearing Max Gold T-shirts, riding in a Max Gold van and flying Max Gold balloons. It is all part of a guerilla marketing campaign to promote 16-year-old progressive house producer and DJ Max Gold, a Songs.com artist who hails from Goldberger's home base in Cherry Hill, New Jersey.

Ari Goldberger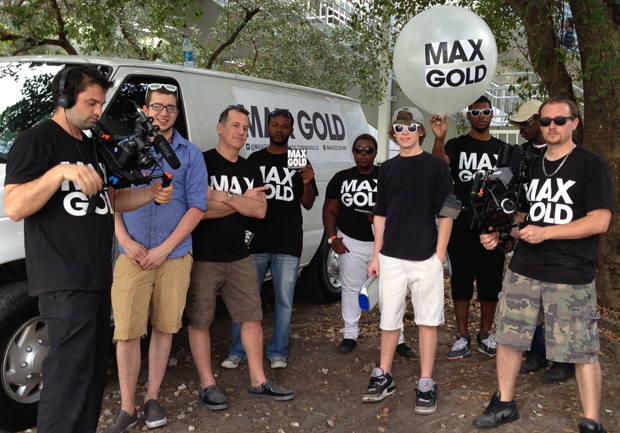 Songs.com founder Ari Goldberger (3rd from left) in Miami with the
guerilla marketing team promoting 16-year-old Songs.com artist Max Gold.
Songs.com has positioned itself as "the newest way for artists, DJs, and producers to promote their songs and music." The site was launched this month to coincide with the Ultra Music Festival and Winter Music Conference in Miami. Goldberger said Songs.com aims to become the leader in helping new and established artists promote and distribute their songs and music.
Goldberger and company also used a trade show, - a medical convention in New Orleans - to launch MD.com earlier this month. MD.com aims to be the premier directory of doctors on the Internet. The site offers all doctors a free MD.com website and provides patients with a place where they can learn about each doctor's background and specialties, find offices and associates, schedule appointments and more.
With the category defining domain name as its foundation, MD.com ranks high on the first page of Google when you search "MD". Goldberger and his teammates at Killer Brands Media LLC have a lot more great generic .com domains so you can bet Songs.com and MD.com won't be the last new online enterprises you will see from them.