The 2013 Domaining Spain conference got underway today with a good crowd on hand for the start of the three day event at the Hotel Sorolla Palace in Valencia.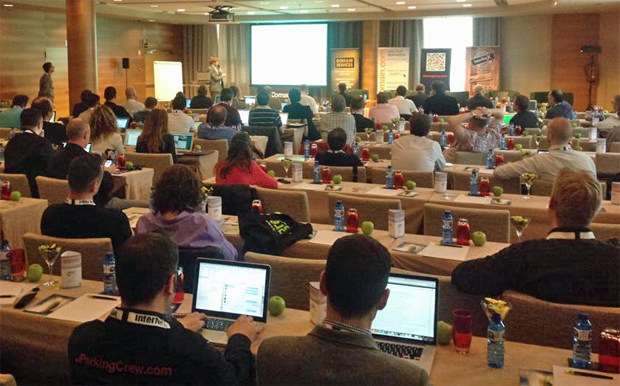 Scene from the opening day of Domaining Spain 2013 Thursday (April 25) in Valencia.
(Photo courtesy of Daniel Dryzek)
Show moderator Braden Pollock kicked things off with welcoming remarks at 12 noon, then Godefroy Jordan, the CEO and founder of Paris-based registry operator Starting Dot, delivered a keynote speech about new gTLDs titled "The New Frontier in Domain Names."
New gTLDs would remain a key theme throughout the day, figuring into almost all of the five business sessions that followed. In the photo below, you see Pollock (at far left) moderating a panel discussion that featured (left to right after Pollock) Xavier Buck (EuroDNS), Michele Neylon (Blacknight) and Tim Switzer (.Green).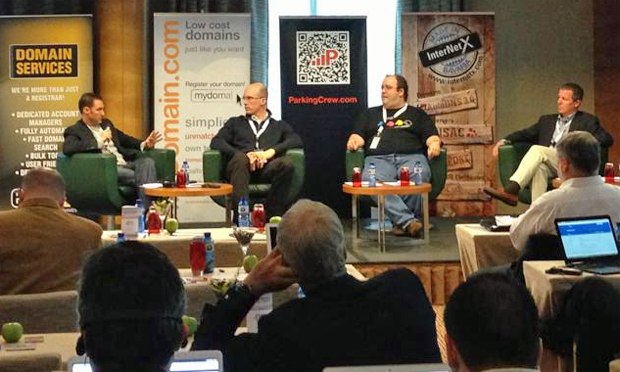 New gTLD panel discussion at Domaing Spain 2013 Thursday
(Photo courtesy of Natasa Djukanovic of the .ME Registry)
Another full day of business is on tap tomorrow when Mr. Buck will kick things off with a 10am talk on recent changes in the industry. The Friday agenda also includes a half dozen more sessions covering a variety of hot industry topics. Tomorrow night's gala dinner will also be of special interest. That is when Jodi Chamberlain, who is producing the conference with Dietmar Stefitz, will have her long brown hair shaved off in exchange for donations to the Water School. Over $21,000 has already been raised and it's not too late to make a donation!